Hospitals for Kids: A Chief Medical Officer's Perspective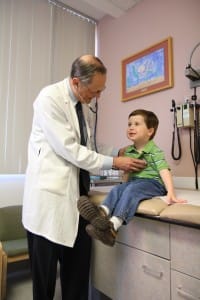 Dr. Robert Adler with child patient at Children's Hospital Los Angeles
An Interview with Robert Adler, MD
When pediatricians in Los Angeles are uncertain about the next step in medical care for a child they are treating, they call Robert "Bob" Adler, MD. Adler has been a physician at Children's Hospital Los Angeles for more than four decades and is well-known in the Los Angeles medical community for his expertise in children. Many pediatricians in Los Angeles learned their craft from him when they trained at Children's Hospital Los Angeles.
What makes a good hospital for children?
Robert Adler, MD: The first sign is if it has pediatric specialists on staff. For example, the staff would consult a pediatric cardiologist instead of a cardiologist. Although it's just one word, it makes a world of difference in the child's care. As a parent, if you hear hospital staff members calling in a pediatric specialist, you know that your child is getting the benefit of a doctor who is laser-focused on being able to accurately diagnose and treat conditions in children.
What about other hospital staff members—should they be specially trained to care for children?
RA: The greatest partner that pediatricians and pediatric specialists can have at the bedside are pediatric-trained nurses, social workers, occupational therapists and other support staff. At Children's Hospital Los Angeles, our patients' recoveries are just as much the result of expertly trained clinical staff members who know how to care for children as they are the physicians' expertise. As a parent, you want every member of your child's care team to be able to provide care that is not only appropriate for the age and development of the child but also supportive of the needs of the entire family.
They say that practice makes perfect. What is "enough practice" to take care of children?
RA: When you start out as a doctor, your medical school and hospital-based training give you a base of knowledge to take care of people. But if you want to specialize in pediatrics, you go through three more years of intensive training learning how to care for children and young adults. If you choose to specialize further in something like pediatric hematology or pediatric neurosurgery, you complete even more years of training. Many of our pediatric and surgical specialists at Children's Hospital Los Angeles have trained for six to ten more years after medical school. Then, as they focus on treating only children, their level of expertise grows. Think about it this way. If I need a doctor for a condition at my age, you couldn't pay me to go see a pediatrician. Why? Patients who are my age want to see an adult doctor who has expertise in symptoms and conditions seen in adults and not children. If I go to a pediatrician, my confidence in their experience in treating adult diseases would be low. It just wouldn't be their core expertise.
Does research play a role in how you recommend hospitals for care?
RA: Absolutely. It's been proven that patients who are treated at a research hospital have access to more medical options than those at other institutions. When your child's hospital is an academic medical center, even if the doctor doesn't know the latest research on a condition, chances are a peer physician right down the hall does. This means that your child's doctor has direct access to fellow physicians who are either researching these conditions themselves or know those who are. Imagine being able to pick up the phone and talk to the exact physician who is the premier specialist in the country researching your child's condition and getting advice in care. That's what my colleagues do every day.
As a pediatrician at a children's hospital, what else would you want parents to know?
RA: Every doctor gets the "MD" after graduating from medical school, but what happens next is really important. If you know a doctor who has dedicated years to obtaining additional training and has devoted their career to caring for kids, wouldn't you want that person providing your child's medical care? I know I would want them caring for my children and my grandchildren. I feel lucky to have worked in a health care environment with a very sophisticated understanding of how to help sick and hurt children return to health. My hope is that your child never has to experience hospital care; but if that need arises, I recommend finding the best hospital—one with physicians and clinical staff who are all trained and dedicated to caring for children, like we have at Children's Hospital Los Angeles.