Enhancing Team Care for Children With Brain Tumors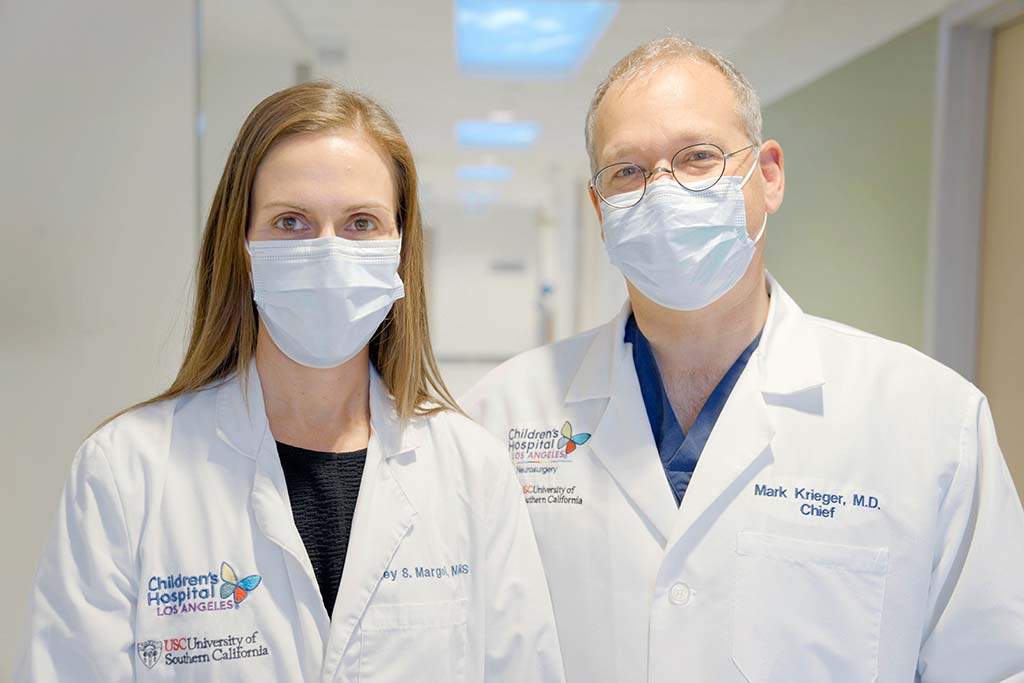 New clinic takes multidisciplinary care to a new level with joint visits for patients and families.
By Katie Sweeney

Children's Hospital Los Angeles has one of the busiest pediatric brain tumor programs in the country. Helping these patients and their families understand their diagnosis and treatment options is an important part of their care.
To enhance these communications, the program recently created a new brain tumor clinic with a unique collaborative approach. Under this model, neurosurgeons and neuro-oncologists meet with patients and families side by side—in the same exam room—to discuss results of imaging studies, answer questions and jointly decide on a plan of care.
The clinic is co-led by Mark Krieger, MD, Senior Vice President and Surgeon-in-Chief and the Billy and Audrey L. Wilder Chair in Neurosurgery, and Ashley Margol, MD, MS, Director of the Neuro-Oncology Program.
"We meet with each family as a team, and they can ask us questions at the same time and hear each of us weigh in with our perspective," says Dr. Krieger. "It really allows us to come together and better engage the family in these important decisions."
Making decisions together
Traditionally, patients have met with each specialist at separate appointments—learning about surgical options from their neurosurgeon and nonsurgical treatments like chemotherapy in another visit with their neuro-oncologist.
At Children's Hospital Los Angeles, the new team structure gives patients a more holistic, comprehensive look at all facets of their treatment—in one meeting. It also streamlines communications and decision-making for physicians.
"Sometimes parents bring up a question that requires input from both the neuro-oncologist and the neurosurgeon," says Dr. Margol. "This model allows us to have a real-time discussion with the family's participation, resulting in a well-coordinated treatment plan."
The Neuro-Oncology Program has long been a multidisciplinary effort. The hospital-wide collaboration involves specialists in neuro-oncology, neuropathology, neuroradiology, neurosurgery, neuroendocrinology, neurology, rehabilitation medicine, radiation oncology and the Center for Personalized Medicine.
The day before each clinic, the entire team meets in a large, multidisciplinary tumor conference to review each child's case and discuss treatment approaches. Patients also can see additional specialists in the brain tumor clinic.
The team collaborates nationally and internationally, too—participating in prestigious pediatric brain tumor research consortia that give patients access to the latest treatment options being tested in clinical trials. Currently the program has 20 open clinical trials—among the most in the country for children with central nervous system tumors.
"We offer patients state-of-the-art therapies, and the experience of our team, especially our brain tumor surgeons, is extensive," Dr. Margol says. "But the fact that we practice in this multidisciplinary approach is one of our biggest strengths."
Designed for kids and families
The new clinic has been made possible in large part by its location in the Neurological Institute Outpatient Center. The family-friendly, 23,000-square-foot space opened in 2021 and is the largest pediatric clinic of its kind in the western U.S.
The Center includes 34 exam rooms and was created for kids—with bright and cheery care areas decorated with murals and artwork created with input from patients. But the areas were also specifically designed to foster teamwork and multidisciplinary care.
Dr. Krieger and Dr. Margol plan to continue to expand the team visit format in their clinic to involve more specialists from other disciplines, including neurology, endocrinology and rehabilitation medicine.
"Families love the convenience of our clinic setup, but it goes beyond that," Dr. Krieger says. "It allows them to participate in their care team decisions in a much more interactive way. It's more than a doctor visit; it's a meeting of the minds to provide the best possible care for each individual child."
---
Related Content