Young Leukemia Patient Breathes New Life Into Barbie Doll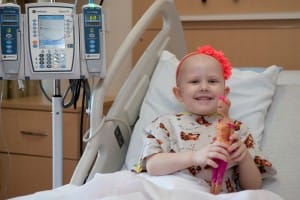 Big round eyes, the biggest smile one will ever see and a beautiful, bald head. These are characteristics shared by Ella, Barbie's doll friend made by Mattel, and Grace Bumstead, 4-year-old patient of Children's Hospital Los Angeles who is currently fighting Ph+ acute lymphoblastic leukemia.
Grace was diagnosed early this January with a rare form of leukemia and received Ella as a gift from Alina San, child life specialist at Children's Hospital Los Angeles, to help her understand the process of her cancer and the chemotherapy that she will receive for the next two years.
"Magical and medical play is important for children Grace's age," says San. "Ella has helped Grace see what will happen and has encouraged her to ask questions."
Ella and Grace (as well as her Disney Princess dolls, Ariel and Rapunzel) have attended many doctor appointments together to allow physicians to physically show on relatable Ella where a shot or bandage might go. The doll even came along to Grace's hair appointment to help her visualize that she can be bald and beautiful, like Ella.
"We always tell Grace that even though Ella does not have hair, she is always smiling," says Chad Bumstead, Grace's father.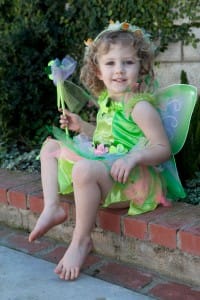 Although Ella is not Grace's most prized doll, her parents, Melissa and Chad Bumstead, and Paul Gaynon, MD, oncologist at Children's Hospital Los Angeles believe that Ella will not only help explain a confusing disease, but also remind Grace of a struggle she overcame and hopefully will never revisit. In fact, the Bumsteads believe in the positive role Ella plays so much that they began a petition to ask Mattel to donate more Ella dolls to children hospitals around the country.
"If the pain that we're going through right now can help someone else, it makes it feel like it's worth it," says Melissa.
In just three months, the petition grabbed the attention of more than 100,000 supporters—causing Mattel to take notice and agree to make and distribute more Ella dolls.
It is no question that Ella and Grace both share beautiful features, but what Grace also encompasses is a strong personality and sharp wit. At just four years old, Grace already knows how to command a room.
"I used to ask God why he gave me such a rambunctious child, but now I know why," says Melissa. "She had to be a fighter."
To watch Grace's first reaction to Ella and more information on the petition, please click here.

How You Can Help
Consider making a donation to Children's Hospital Los Angeles and help treat kids just like Grace. Visit CHLA.org/Donate.