Max Page, the Mini Darth Vader, is Back Home After Open Heart Surgery
Max Page Is Back Home!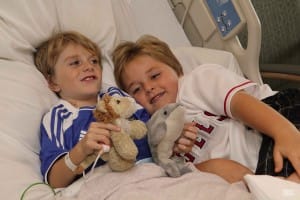 Five days after open heart surgery at The Heart Institute at Children's Hospital Los Angeles, 7-year-old actor Max Page marched into a press conference Monday and announced he was ready to have a "milkshake."
"I am excited about a lot of things, especially having a milkshake. (The last one) was like two weeks ago," says Max, the mini Darth Vader who endeared himself to millions portraying a pint-sized version of the Star Wars character in a 2011 Volkswagen Super Bowl commercial.
Other than feeling "a little pain in my chest," Max said he felt 'better' and was looking forward to playing with friends,  though his younger brother Els said he'd probably tell all their pals to take it easy on Max for a little while. To which Max replied, "Bring it on!"
Jennifer Page, Max's mother, said she felt similar emotions coming and going from the hospital. "My teary moments were when we first walked in last Wednesday because I knew what was coming," she said, referring to Max's open heart surgery in which he had a pulmonary valve replaced during a two hour operation on June 14 by Cardiothoracic Surgeon Vaughn Starnes, MD, co-director of The Heart Institute at Children's Hospital Los Angeles. Max spent the next four days in the hospital's Cardiothoracic Intensive Care Unit before moving to the floor's Cardiovascular Acute Care wing Sunday. "But as we packed up today and walked out that doorway, I fell apart in my husband's arms again and said: 'We're going home.'"
Max, Jennifer cautions, still has to navigate a challenging road to recovery during the next six to eight weeks. "Max's body still needs to accept the new valve and we have to watch for infection," she says. "But it's going to be a happy time in traffic going home on the 405."
Then Max interrupted: "I don't believe that," he quipped, drawing laughter from the assembled media.
Asked if he had any words for advice for other kids facing surgery, Max repeated his famous refrain: "If you use your force and dream big, you can do anything. We may be small, but we're mighty."
Jennifer and Buck also acknowledged son Els, 6, who has been a great brother to Max the past few days. He's "very, very brave," says Jennifer of Els. "It's not easy to see a parent cry and we have done plenty of that. But now they're happy tears."
Jennifer also wanted to thank the supporters from around the world and the Children's Hospital Los Angeles staff. "It's amazing," she says of the hospital. "As parents, we could sleep in our son's room to be with him and we could eat here, shower here and have a comfortable place to sit and lie down. All without leaving the room! The family-centered care here is extraordinary. Els was allowed in to Max's room to see his brother and be a part of our family. The nurses and doctors made us feel like a part of the team."
To support Children's Hospital Los Angeles in honor of Max, visit
CHLA.org/Max
.