A Friend's Quest to Find a Bone Marrow Match
Alexandrea Vizcarra experienced terrible back pain in May 2009 and was rushed to Children's Hospital Los Angeles where doctors found abnormalities in her blood. Alexandrea reflects "it was something that changed my life forever."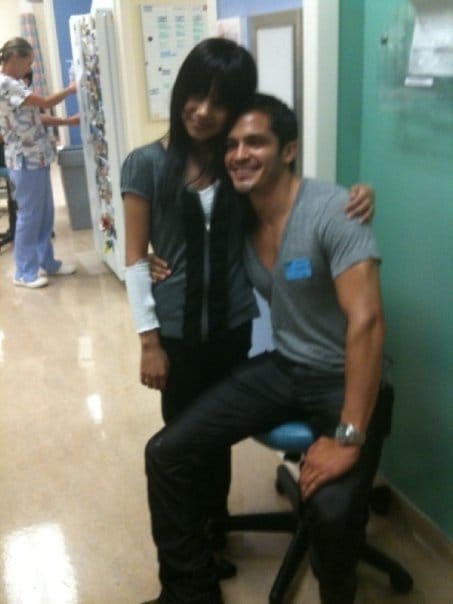 Confirmed by several tests and visits with doctors, Alexandrea and her family were informed that she had leukemia. She underwent a series of chemotherapy to rid the cancer found in her blood. Alexandrea spent months as an inpatient at the Center for Cancer and Blood Diseases undergoing several blood transfusions to beat the life threatening disease. Months later, Alexandrea was in remission.
Alexandrea maintained a positive attitude and made several friends on the floor during her hospitalization including her number one fan and supporter, actor Nicholas Gonzalez.
"Alexandrea is the reason I have become so involved with Children's Hospital Los Angeles," says Nicholas. "I first met her on a visit to the hospital through my friend and fellow actor, Benny Nieves. She was the first patient I had the honor of sitting with and in the midst of her struggle, Alexandrea was engaging, optimistic and endearing. Alexandrea has never once bemoaned her condition and is always looking ahead to the future."
Alexandrea and Nicholas became instant friends and have stayed in touch over the past three years. While Alexandrea was in the hospital, he committed to hosting "Celebrity Blood Drives" in effort to encourage blood and platelet donations to help his new friend and other kids he met during his visits to Children's Hospital Los Angeles. He has brought much attention to this need, especially in the Latino community where blood donations are strongly needed.
In April 2012, Alexandrea relapsed and now her life depends on a bone marrow transplant. Alexandrea is among the 70% of patients who do not have a donor in their family and rely on volunteer donors to save their life. Patients are most likely to match someone of their own race or ethnicity.
"I have seen Alexandrea beat it once...I cannot wait to see her do it again!  And did I mention she battles leukemia all the while looking like an absolutely gorgeous little supermodel?  Well...she does," says Nicholas.
As soon as Nicholas heard the news of her relapse, he rushed to the hospital to offer Alexandrea comfort and insisted on hosting another blood drive in her honor. He is determined to find her a bone marrow donor and encourage as many people as he can to join the national registry and help save his friend.