Formerly Conjoined Twin Girls Celebrate Their Eleventh Birthday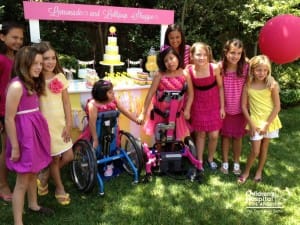 The afternoon was ripe for a lemonade and lollipop-themed birthday party. If you looked up, you'd see lush trees and party balloons; not one cloud to shade the fun for two of our patients, Josie and Teresa, along with their family and friends.
Josie (born Maria de Jesus Quiej Alvarez) and Teresa (born Teresa Maria Quiej Alvarez) were born conjoined at the top of the head, otherwise known as craniospagus twins. Ten years ago, the 23-hour operation made international headlines. In fact, the girls were called "the Two Marias." The girls receive ongoing care at Children's Hospital Los Angeles under the care of Wendy Mitchell, MD of Neurology and Mark Urata, MD, DDS of Plastic Surgery, who was also part of the original surgical team that separated the girls and many others.
This past Saturday, July 14, Josie and Teresa celebrated their eleventh birthday. The day was filled with pink and yellow balloons, music, laughs and treats. The party was extra special; it marked ten years since the girls' operation and physicians and nurses from Children's Hospital Los Angeles were there to celebrate. The twins enjoyed the company of Mark Krieger, MD of Neurosurgery, Jennifer Loiselle, an Occupational Therapist in Rehabilitation Services and Noreen Clark, a nurse in Plastic Surgery. Additionally, the acting surgeon responsible for separating the girls ten years ago, Jorge Lazareff, MD of Neurological Surgery at UCLA's Mattel Children's Hospital, came to enjoy the birthday festivities.
One of the physicians who frequently works with Josie and Teresa, Robert Kay, MD, Vice-Chief, Children's Orthopaeic Center, was also in attendance and shared "They've [Josie and Teresa] have developed a lot as far as their interaction, their intelligence and communication."
He couldn't have said it clearer. Josie and her girlfriends gave a performance to the popular song, "Call Me Maybe." Though Teresa is unable to speak or walk due to struggling with spinal meningitis several years ago, she is responsive to touch and enjoys when family and close ones blow on her face. Josie, who wants to be a television reporter when she grows up, spends a great deal of time sharing her story and progress as often as she can, whether in school auditoriums or fundraising events.
The party was more than just a birthday celebration it was a milestone for the two girls. Many were unsure of how far they would come after their life-saving operation ten years ago, but this special day was another celebration of the kind of collaborative care provided by clinicians at Children's Hospital Los Angeles.