A Former Patient Sings to Patients to Promote Hope and Courage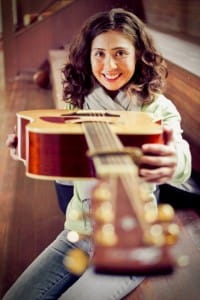 The gift of song brightens the spirit and creates hope. Valerie Sun, a former Children's Hospital Los Angeles bone marrow transplant (BMT) patient, would know. Singing has been a big part of Valerie's life through singing in church and school choirs during her childhood years. Singing is still a big part of her life and Valerie views her voice as her instrument to give back to Children's Hospital Los Angeles and its patients and families. This is her story.
In 1993 Valerie was diagnosed with aplastic anemia, a disease of the bone marrow. After receiving a bone marrow match in 1999, she underwent a transplant at Children's Hospital Los Angeles after her freshman year at the University of Southern California. While a patient, she recalls the special care she received from the nurses, physicians and social workers, whether it was a hug, words of encouragement or even a cup of Jell-O. To date, thirteen years later, she is still close with several of her nurses and BMT team. For example, her BMT physician, Ami Shah, MD, invited her to sing at the Mia Hamm Nomar Garciaparra Celebrity Soccer Challenge, which raised funds for the hospital. She also sang an original song, with two other patients and Maroon 5's guitarist James Valentine, at a Children's Hospital Los Angeles Teen Impact fundraiser at House of Blues.
After her treatment, Valerie recovered and returned to USC. In her freshman year, she was selected to join the USC Sirens, the only all-female cappella group on campus. "The Sirens made my college experience incredibly memorable," shares Valerie.
The Sirens are some of Valerie's best friends and were her biggest supporters when she was a patient at the hospital, which is how the Sirens became a holiday staple at Children's Hospital Los Angeles. Since 2002, Valerie and alumni and current USC Sirens have made it a tradition to visit the hospital during the holiday season to sing carols, like Rudolph the Red-Nosed Reindeer, Silent Night and a few songs from their non-holiday repertoire, like California Dreamin.' "We had a bunch of little ones following us down the hallways," as Valerie reflects on her most recent caroling visit on Dec. 11. It not only leaves a positive impact on the young patients, but also on the Sirens. Valerie shares that many of the Sirens have declared the annual caroling event one of their favorite events of the year. She exclaims, "It makes me happy to hear that Children's Hospital Los Angeles has not only left a profound impression on me, but on my friends and family and other USC students!"
Valerie's special holiday message to every patient and family, "It is truly my hope that these holiday songs of joy, peace and love touch your hearts. Because every year your smiles, waves and unwavering hope and courage in the midst of challenge and hardship most certainly touch ours."
See Valerie share her story and the USC Sirens sing Silent Night.