Chicago Bulls Starter, Pau Gasol, Is Always On Team CHLA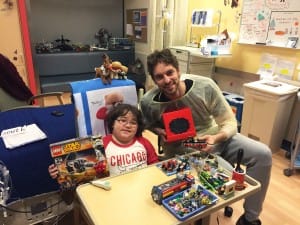 Dylan, who often makes LEGO gifts for those he becomes close with, made Pau a new LEGO creation
Pau Gasol returned last week to the Staples Center in a Chicago Bulls uniform to take on his former team, the Los Angeles Lakers. But, hours after his plane landed, he made time to visit another favorite team of his—Children's Hospital Los Angeles.
Over the last several years, Pau has observed orthopedic surgeries, stood at the podium accepting honorary awards, accepted donations made in his honor, advocated others to donate to CHLA and finally personally creating a fellowship for surgeons to travel from Spain to spend time learning about pediatric orthopedic surgery from CHLA's "marquee players."
Even more than the above, Pau has always made time to visit patients in a genuine and meaningful way. To this day, these relationships continue via electronic tether attached to social media channels or as in the case of Dylan (pictured), Pau makes the time to see his young buddy.
Dylan has been featured in many CHLA stories as his mitochondrial condition anchors him to his room in the Pediatric Intensive Care Unit. His latest stay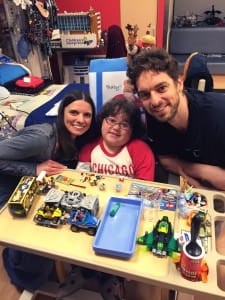 Left to right: Kapka, Dylan's mother; Dylan; Pau Gasol
in the hospital began over seven months ago. His family has leased a home close to the hospital, where mom tries to cope with this new healthcare filled life and sister attends school here to be close to her brother, and dad remains in Las Vegas to continue a family business. The weekends become L.A. family time and the separation begins again late Sunday night, but dad hopes to make L.A. his permanent home soon.
Dylan's situation was challenged many times these last two weeks as he endured yet another surgery—if you are counting, it was his 15th surgery. His nurses, (one of them he married a few months ago, but that's another story), "FaceTime teachers," doctors and all the other allied healthcare staff were worried; He just wasn't the same. But, when he received the news that his buddy, Pau, was coming, Dylan was transformed. His Mom, Kapka, found a Chicago Bulls t-shirt for him to wear to surprise his friend and for two hours the two of them giggled and carried on while building LEGO sets.
So, as this year's NBA All-Star Game draws near, let's all root for our No. 16 Starter, who is always No. 1 in Dylan's eyes. Thanks Pau for your continuous friendship with Dylan and Team CHLA!
More stories on Dylan and Pau