The Day Pierce was Diagnosed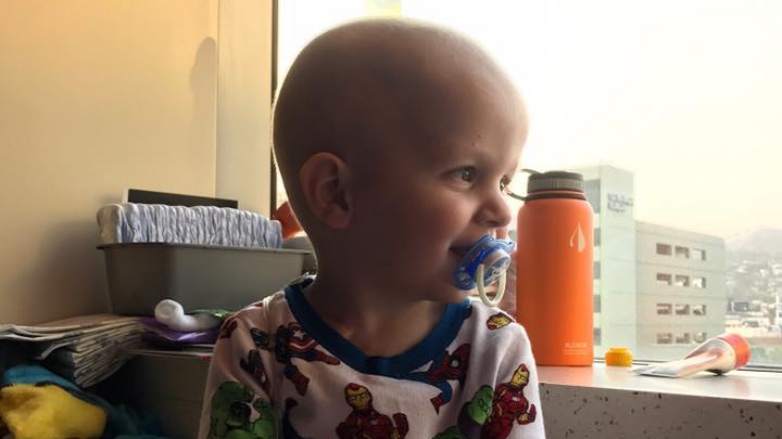 Aubrey Kelly's 2-year-old son, Pierce, was diagnosed with acute myeloid leukemia—a rare subset of leukemia that can progress quickly if not treated. In Pierce's case, the best option was a bone marrow transplant.
Pierce waited for 86 days to find his bone marrow donor while being treated at the Children's Center for Cancer and Blood Diseases at Children's Hospital Los Angeles. On July 21, he received his match.
At CHLA, we know all too well that cancer and all its implications aren't fully described in a few sentences, paragraphs or even essays. But we try to make sense of it all for our loved ones, our families, our kids and ourselves. Aubrey helps bring a little more reassurance to other families as she pieces together her thoughts on her son's diagnosis.​
I remember thinking on our D-day—our diagnosis day—that my life will never be the same. My perspective, my focus, my family, how I approach my professional life and personal life, how I approach everything will change.

In a way it did, and in a way it didn't. For all the things ugly about cancer, it tests you. It tests your entire family and how you're going to respond. It tests you to the core.

How you deal with initial shock.

How you deal with educating yourself to understand to the best of your ability what is going on.

How you finally get to a point of letting go (but only slightly) and place your faith in your team of physicians and nurses to manage your kid's care while you focus on playroom hours.

How you deal with the suddenness of realizing you have a cancer kid.

How you immediately transition to supporting your children—including siblings—in whatever capacity they need.

How you lean on and support your husband, your extended family and your friends.

And how you continue all of this for a duration that is never-ending.

Once the initial shock wanes slightly, how do you take care of yourself so that you can be the rock for your family?

How do you deal with the constant ups and downs that come with things both expected and unexpected?

How we, as mothers of cancer kids, respond to these questions is not necessarily unique to cancer. It is unique to being a mom. Cancer just amplifies the degree to which we need to respond. We need to balance the taking care of ourselves to ensure we are taking care of our family.

On April 7, at 22 months old, my son was diagnosed with a rare form of acute myeloid leukemia. He needed multiple rounds of chemo and a bone marrow transplant. Since then, he's been under anesthesia 14 times, had 31 platelet transfusions and 15 blood transfusions, and spent 115 days in the hospital.

At the time of diagnosis, his older sister was 4 years old, his younger sister 4 1/2 weeks old. He hasn't seen his sisters in 50 days (while recovering from his bone marrow transplant). In the last 50 days, I've seen my daughters six times.

Cancer is greedy, unpredictable and ugly. The hardest thing for me was (and continues to be) letting go of the things I can't control. Out of necessity, I've surrounded myself with people who can help share the burden, people who can lift me up so that I, in turn, can lift my son up.

I now appreciate the importance of also being lifted up by other families, other moms. It was another mom who told me when we were in our first chemo round, "You bloom where you're planted."

My focus on my family hasn't necessarily changed, but my perspective most certainly has, and I know we will continue to bloom.
How you can help
To help kids just like Pierce, consider making a donation to Children's Hospital Los Angeles. Visit CHLA.org/Donate.