Pacifier Practice
A pacifier that plays a sweet lullaby encourages baby Jayla to learn the skills she needs to feed and self-soothe 
By Marla Lehner
In December 2018, Lynette gave birth to her daughter, Jayla, at a local hospital near their home in Littlerock, California. Moments later, the newborn, who was seven weeks premature, stopped breathing and was whisked away from her mother to be intubated. 
Jayla at CHLA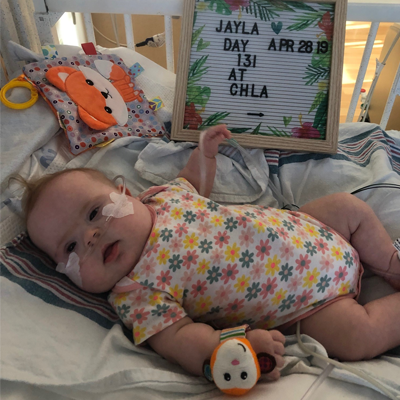 It soon became clear that Jayla needed specialized care, and at 3 days old was rushed to CHLA via helicopter to be cared for in the Steven & Alexandra Cohen Foundation Newborn and Infant Critical Care Unit (NICCU).
Born with Down syndrome, Jayla was diagnosed at CHLA with bilateral choanal atresia, a condition that caused bone and tissue to block her nostrils. When Jayla was 2 months old, Christian J. Hochstim, MD, PhD, Attending Physician in the Division of Otolaryngology – Head and Neck Surgery, performed a bilateral atresia repair to correct the condition. Lynette jokingly refers to the surgery as her daughter's "nose job."
It took Jayla more than two months to heal, partly because she had additional narrowing in her trachea—but when her breathing tube was finally removed, it was time to work on her ability to feed. Babies with Down syndrome often have low oral muscle tone, which results in weak sucking and swallowing. This was compounded by the fact that Jayla had been intubated from birth, so she had not developed the ability to suck effectively—an essential skill for nursing, feeding from a bottle and promoting self-soothing behaviors. 
A new kind of intervention
Recently, CHLA began using an innovative musical tool to improve the ability of premature and medically complex infants to suck. The pacifier-activated lullaby (PAL) rewards a baby with music when the infant sucks on the pacifier. CHLA Music Therapy Resident Heng Wei Moh, BM, MT-BC, NICU-MT, collaborates with occupational therapists to use the PAL device. This new intervention—supported by a generous grant from the Music Man Foundation—builds on preliminary research, conducted at CHLA and other institutions, showing that the PAL improves babies' ability to suck. 
Occupational therapist Judy Hopkins, OT, identified Lynette and Jayla as perfect candidates for the pacifier-activated lullaby intervention and connected them with Moh. "Lynette was so engaged and wanted to participate in anything that would help her daughter prepare for oral feeding," says Hopkins. "Jayla and her mom already had such a great bond. I felt this would deepen their bond while also helping to prepare Jayla for oral feeding when it was medically appropriate."
A collaborative, positive process
Moh helps parents write and record a lullaby, and then loads the audio onto the PAL device. During a therapy session, when a baby demonstrates effective sucking, the device plays the lullaby as a reward. 
Music Therapy Resident Heng Wei Moh greets Jayla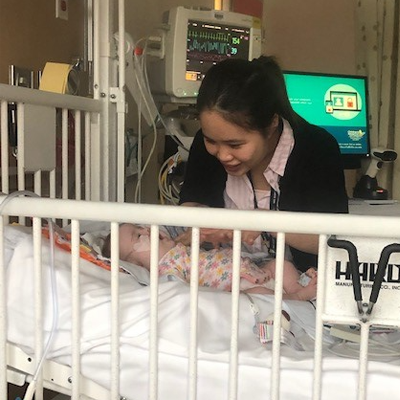 Lynette and Moh worked together to come up with personalized words about Jayla and her family. The result was a simple yet achingly beautiful piece that Lynette has played for countless friends and family members. The collaborative project also helped Lynette feel active in her daughter's healing process.
"We recorded a song to the melody of 'You Are My Sunshine,'" says Lynette. "It makes everyone who hears it cry."
When Moh worked with Jayla using the pacifier that played the lullaby, "Jayla really enjoyed it," says her mom. "All her stats improved. Her heart rate went down; her breathing was better. She made a lot of eye contact. She was really receptive to it."
Not only was Jayla calmer and more focused, but she started to suck effectively. "This is a baby who had never eaten or sucked on a pacifier," says Lynette. "In one of her best therapy sessions, she did 18 really good sucks in a row."
Lynette says the PAL intervention, and music therapy in general, have been a blessing. "When Jayla got tired from the pacifier therapy, Moh still gave her music therapy. She sang to her and played guitar," says Lynette. "Moh is an angel. She's an angel on Earth."
Now at home and eating through a G-tube, Jayla is doing well. Lynette says she plans to continue using music at home to comfort her daughter and motivate her to keep developing her muscle tone and her sucking ability. "I know it will improve with age and strength and growth," she says. "She's very interested in music, and she's been a positive experience for both of us."
How you can help
To help kids just like Jayla, consider making a donation to Children's Hospital Los Angeles. Visit CHLA.org/Donate.