New Heart, Old Melody
On Valentine's Day, most people receive cards immersed in proclamations of love and red or pink symbols of the heart. But what if you received a card with a picture of a ventricular assist device (VAD)?
Many of you might be confused. But to a select few, this is a proclamation of life and was once a symbol of their heart. So, what is this exactly? A ventricular assist device helps a critically ill heart pump blood to the lungs and body. It is often referred to as a "bridge" for patients awaiting their heart transplant. The pump that is attached to the patient comes in various sizes, but here at Children's Hospital Los Angeles, we specialize in smaller options—including a size for newborns.
A Heart's Journey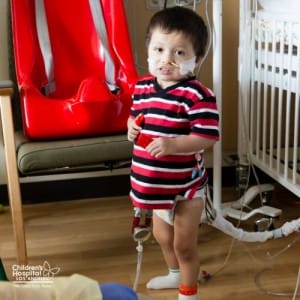 One of our smaller pumps was given to then one-year-old Gabriel Lopez, and for more than half of his young life, this helped his heart, well, be a heart. Gabriel was diagnosed with dilated cardiomyopathy, a condition in which the heart becomes weakened and enlarged—causing a decrease in its ability to pump blood to the rest of the body.
"He was breathing fast, his body was swollen and he was throwing up," says Gabriel's mother, Ivonne, of when he was taken to the emergency room. "The CHLA team came to the hospital we were at, heard his heart and told us he needed to be admitted immediately."
For the next four months, he made continuous visits to CHLA as an outpatient, but his condition continued to worsen in spite of maximized medications. He was cranky, perspiring profusely and inconsolable—a sign of end-stage heart failure in babies. By the fifth month, Gabriel's heart had had enough, and the Heart Transplant Program at CHLA placed him on a VAD to await a new one.
"I was scared, but I knew these were the best doctors," said Ivonne. "Putting him on the VAD gave him a boost of energy and he seemed to be at ease."
Gabriel would spend the following 384 days in our hospital attached to his temporary heart—the longest a CHLA patient has ever been on a VAD. A multitude of teams worked with Gabriel to help him keep up with developmental milestones as much as possible, including Child Life specialists and music therapists, who helped find distractions for Gabriel as he went from being a baby to a toddler. These distractions proved to be helpful during his sometimes hour-long dressing changes as well.
A Heart's Melody
"Music therapy was the one thing during Gabriel's hospitalization that he would always respond to, no matter how he was feeling or his day had gone so far," said Tacy Pillow, music therapist in the Mark Taper-Johnny Mercer Artists Program at CHLA. "From the first few weeks he was admitted, his face would light up when I entered his room with my guitar."
Music is often used in the hospital as diversions and to help keep patients calm. In Gabriel's case, Disney songs and his favorite, Love Me Tender by Elvis Presley, was used to maintain developmental skills, decrease agitation during procedures, cope with hospitalization and facilitate bonding time with his family. As he got older, it helped his developmental skills such as improving speech, taking turns and other things he would be doing at his age.
However, these distractions would only last so long. After many months on the VAD, Gabriel was becoming a frustrated toddler.
"He began to have a facial expression that seemed to say, 'Come on guys, get me off this!,'" said Monica Horn, transplant coordinator in the Heart Transplant Program at CHLA. "We all just kept hoping for the day that he would get his transplant."
A Heart's Home Sweet Home
That day finally came on Dec. 23, 2014. The Heart Transplant team worked all night and into the next day to give Gabriel the best present he could ever hope for—a strong, relentless heart.
For the past year, CHLA counted each day Gabriel spent on the VAD. Now, we will count the number of days he has spent with his new heart (52), days he has been at home (22) and holidays he will get to celebrate outside these walls—the first of which is on Saturday. Coincidentally it is a day that celebrates the heart.
From our heart to yours, Happy Valentine's Day, Gabriel!
How You Can Help
Consider making a
donation
to Children's Hospital Los Angeles and help treat kids just like Gabriel. Visit
CHLA.org/Donate
.