Max Page: The Boy Behind Darth Vader's Mask
[Update June 13, 2012]  Max Page, the little boy who entertained millions playing a mini Darth Vader in a 2011 Super Bowl ad, will undergo surgery to replace a pulmonary heart valve on June 14 at Children's Hospital Los Angeles. Read our recent blog post about Max's upcoming heart surgery.  
Super Bowl Commercial Features Heart Patient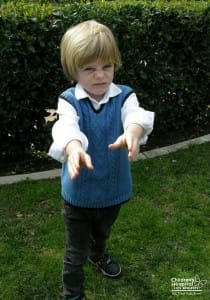 At the tender age of 6, Max Page has already made a name for himself as an actor. The young man is a member of the cast of "The Young and the Restless," and is gaining fame as the mini Darth Vader in a Volkswagen ad that has quickly become a YouTube sensation.
It's hard to imagine that at 3 months of age, Max was diagnosed with Tetralogy of Fallot, a congenital heart defect in children. At that time, Buck and Jennifer Page brought their infant son to Children's Hospital Los Angeles for treatment.
In the ad (featured below), Max dons a Darth Vader costume. He revealed his identity in a press conference at our hospital, with the commercial scheduled to air during the NFL's Super Bowl XLV.
Parents Jennifer and Buck Page, returned to the hospital with both Max and his brother, Ellison, to visit with Michael Silka, MD.  Head of our Division of Cardiology and Max's pediatric cardiologist, Dr. Silka spoke very  positively about his energetic young patient.
"Max's prognosis going forward is very good," Silka says. "He can essentially have normal activity and with careful care, a full life is a reasonable expectation."
As for Max's parents, they see this attention as an opportunity to reach out to parents whose children suffer from heart conditions.
"When we first received the diagnosis, we were lost," Buck explains. After going through the experience, they learned firsthand how traumatic it can be as a parent of a child with a serious ailment.
Mr. and Mrs. Page hope that in sharing their experience, they can help other parents of sick children understand they are not alone.
"Before our experience with Max, I would walk through the hospital and see sick children and be afraid to look at them," Buck says.  "Now, I make a point to look them all in the eye and say, 'Hello.'"