Matching Scars

A daughter comes to CHLA for the same surgery her mother had here more than 35 years before
Amelia Green and her family arrived at Children's Hospital Los Angeles before dawn on Aug. 13, 2014. The adorable 4-year-old was dressed as her favorite TV character, Doc McStuffins, as she prepared to undergo surgery to repair the ureteral tubes that connect her bladder and kidneys.
For Amelia's mother, Mary, walking through the halls of the hospital that morning was an odd kind of homecoming. She, too, had undergone the same surgery at Children's Hospital more than 35 years earlier. "We came down right after Mary's first birthday," says Amelia's grandma, Linda McCreadie. "I remember it was the day after Christmas in 1977."
So when the family returned to the hospital in 2014, for Amelia's surgery, "It was déjà vu for me," says Linda.
Amelia had been born perfectly healthy, but began suffering from recurring bladder infections at age 3. Twice, the infections were accompanied by a high fever and a febrile seizure that landed her in a local hospital near the family's home in Apple Valley, Calif.
"The febrile seizures happened when her temperature went really high—around 103 or 104 degrees— and then she went unconscious and started violently shaking," Mary recalls.
A Serious Case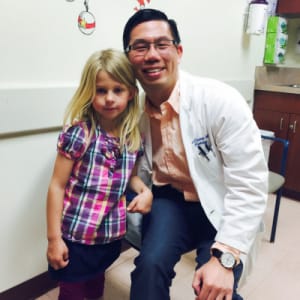 Amelia's local pediatrician was not concerned, but Mary, thinking about her own health history, insisted that her daughter see a pediatric urologist. That's when the family met Andy Chang, MD, in CHLA's Division of Pediatric Urology.
"When we saw him, he said, 'Wow, this looks like a pretty serious case,'" says Mary. "It wasn't what we wanted to hear, but we were so relieved that somebody was taking Amelia's condition seriously."
Amelia's ureteral tubes were not properly connected to her bladder, which caused urine to back up into her kidneys—the same condition her mother had as an infant. The condition can cause infections, kidney damage or even kidney failure. Chang recommended ureteral reimplantation surgery, which would correct the position of Amelia's ureteral tubes.
"The decision to operate on a child is never easy," says Chang. "But with Amelia's severe vesicoureteral reflux disease, combined with two episodes of seizures due to high fevers from kidney infections, this decision to operate was much easier to make."
A Family's Love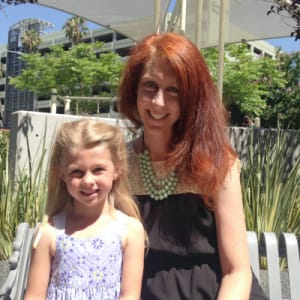 On the day of the surgery, "I was nervous," says Mary, "but everyone at Children's Hospital did everything they could to make us feel comfortable and welcome. And Dr. Chang was just amazing."
Amelia spent the night at CHLA in a room her mom decorated with pictures of characters from "Frozen." The next day, the little girl was out of bed and walking.
"Amelia recovered fantastically well," says Chang. "Of course, it took a team to get Amelia back on her feet, from the perioperative and operative staff, the Division of Pediatric Urology clinic staff, nurses and residents. Lastly, but not least, the love and support of Amelia's family contributed to her amazing healing. "
Today, Amelia, 6, is a healthy first grader who loves dogs, takes ballet and tap dancing lessons and wants to be a teacher like her mom someday. Another thing she has in common with her mom: matching scars. "I think the scars look like a little smiley face," says Mary with a smile.
"We're so grateful to Dr. Chang for everything," she adds. "Doctors like him help make Children's Hospital Los Angeles shine."
How you can help
To help kids just like Amelia, visit CHLA.org/Donate.