Jenny Dances Past Scoliosis With Grace—and Grit
When 15-year-old Jenny Cheng learned that she'd been accepted to a prestigious summer ballet and language program in Russia—earning a significant scholarship—she was beyond elated.
But on that same day in April 2015, Jenny and her family also learned that her scoliosis (abnormal curvature of the spine) was progressing rapidly. She was having surgery in 10 days; the trip was just two months away.
To be ready to dance in Russia, she would have to recover at lightning speed.
"I really wanted to go on that trip," Jenny says.
A severe curve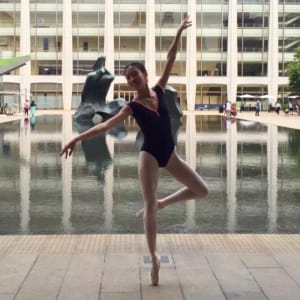 Jenny and her family had already tried to avoid surgery. A year earlier, they had gone to see David Skaggs, MD, MMM, chief of the Children's Orthopaedic Center and director of the Children's Spine Center at Children's Hospital Los Angeles.
At the time, Jenny's curve was a severe 58 degrees. Skaggs recommended surgery as soon as possible.
"Once a curve goes past 50 degrees, we know—from very good studies over years and years—that the curve will relentlessly progress," Skaggs explains. That progression can lead to physical deformity, debilitating back pain and even compromised lung function.
A surgery called spinal fusion can correct the curve and prevent future progression. The surgery involves inserting metal rods to straighten the spine and then fusing them in place with bone grafts.
The family hesitated. Jenny was dancing six days a week and performing in regular ballet productions. Her parents worried about the risks and possible complications of surgery.
"If something went wrong, maybe later it would cause pain in her life," says Mei Bin, Jenny's mom. "Dr. Skaggs warned me that nothing but surgery would help. But as a parent, you want to try everything."
'We were really scared'
For the next year, the family did indeed try everything—even sending Jenny to a scoliosis "boot camp" in the Midwest, where she spent two weeks doing exercises in various contraptions.
"It was really awful. I hated it," Jenny says. When she returned home, she continued doing painful exercises, three times a day, with a device that claimed to straighten the spine.
Meanwhile, her torso was increasingly pushed over to one side; she forcibly straightened it while dancing. And she began having a harder time catching her breath after rigorous ballet sessions.
Concerned, the family returned to Skaggs' office in April 2015, the same day they learned of Jenny's acceptance into the Russian dance program.
An X-ray revealed that Jenny's curve had jumped to 68 degrees. "We were really scared," Bin says.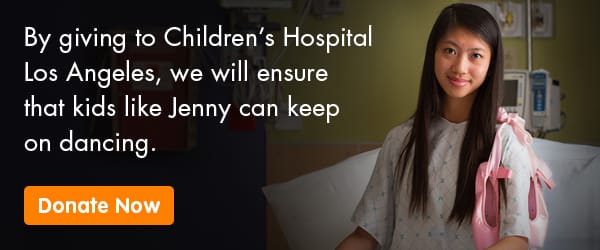 They booked the surgery for the following week, and on April 22, 2015, Skaggs successfully performed the spinal fusion operation to straighten Jenny's spine.
The first days afterward were rough—Jenny felt nauseous and needed a blood transfusion—but she quickly improved. Once home, she followed a strict regimen of daily walking to speed her healing.
"She's tough," says her mom. "She really worked hard."
Incredibly, just three weeks after surgery, a determined Jenny was back in ballet class. Two months after surgery, she was ready for her dream trip.
She flew to New York for the program's first three weeks. From there, she headed to Russia, where she danced, took language classes, toured Moscow and stayed with host families with her fellow ballet students.
"It was amazing," Jenny says. "I loved visiting museums and famous sites of Russian history and experiencing a culture so different from my own."
Exploring new passions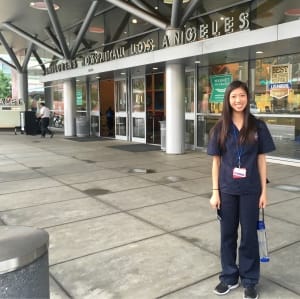 Now almost 17 and a high school senior, Jenny still loves ballet, but she's no longer pursuing it as intensely. Since her surgery, one move—called an arabesque, wherein one leg supports her body while the other is extended behind her—gives her trouble, although she's become stronger in other areas of ballet. Mostly, though, she wants to have time for new activities—she now tutors students in math, teaches a children's ballet class and volunteers at a hospital near her home.
Her scoliosis experience also inspired a new career direction. This past summer, she attended Camp CHLA, a weeklong camp for high school students interested in health care careers. After observing a spinal fusion surgery, she has a new top career choice: orthopaedic surgeon.
Perhaps one day she will be the one helping young people overcome scoliosis. For now, her advice is simple: Listen to Dr. Skaggs.
"He has the experience and knowledge to give you the best care possible," she says. "He really helped me a lot."
Help scoliosis patients like Jenny dance without debilitating pain by donating today. Visit CHLA.org/GiveLA to make a tax-deductible gift to Live L.A., Give L.A. for Children's Hospital Los Angeles.
Help scoliosis patients like Jenny dance without debilitating pain.
I would like to make a tax-deductible gift of:
DONATE NOW

Make sure your gift to CHLA goes directly to where it's most needed, without delay, with a secure online donation.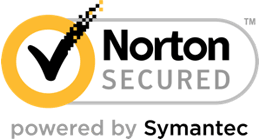 Looking to make a monthly donation, fundraise for CHLA or give some other way?
Visit our
Ways to Help
page.