Haven Beats Her Perfect Storm of Germs
Haven Forner Receives Life-Changing Care From CHLA's ECMO Program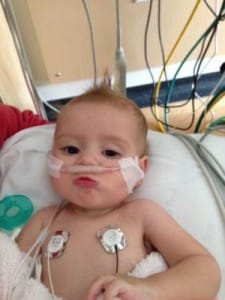 One of the largest of its kind in California, the Extracorporeal Membrane Oxygenation (ECMO) Program at Children's Hospital Los Angeles has served more than 1,100 critically ill children since the program's inception in the hospital's Newborn and Infant Critical Care Unit in 1987.
One of the 1,100 children the program has helped is Haven Forner, who just celebrated her second birthday with the CHLA staff who helped her during her stay.
At 5 months old, in December 2013, Haven was airlifted to CHLA with a "perfect storm of germs"—pneumonia, parainfluenza and adenovirus.
"Her doctor had the foresight to know Haven might need ECMO care and made it very clear that CHLA was where Haven needed to be," says Aja Forner, Haven's mother.
ECMO is a treatment that uses a pump to circulate blood through an artificial lung outside the body and back into the bloodstream of an ill child, giving the patient's heart and lungs a chance to grow or heal while their work is handled by this external system. Typically used as a last resort, ECMO technology increases survival rates by up to 80 percent. It requires a high-functioning, multidisciplinary team that is trained to treat the most difficult of cases.
On Dec. 25, Haven's first Christmas, her lungs and heart were given the gift of complete rest. For the next 17 days, ECMO equipment helped Haven pump and oxygenate her blood, which gave her lungs and heart the time to heal. She then spent two months in the Pediatric Intensive Care Unit to help wean her off ECMO and strengthen her lungs enough to perform on their own.
"It was so hard for us to see our baby in the condition she was in, but knowing Haven had two incredible nurses caring for her around the clock, we knew she was in great hands," says Aja.
Although ECMO saved Haven's life, the viral and bacterial infections damaged her lungs so badly that she still needed oxygen at home every day for a year and a half. "She went from 24 hours of oxygen with very little flow, to oxygen only at night, to finally being able to keep her saturations up on her own," says Aja.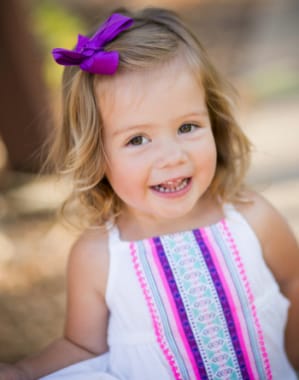 It has been almost two years since Haven was taken off ECMO and six months completely off of oxygen. Her parents describe her as a child who is thriving, full of spirit, and filled with love for all she meets (the latter will come in handy, as she has just been promoted to big sister to new baby brother, Ryder). She has just a few scars; one would never be able to tell how hard she fought for her life. But her family remembers, and intends to share with Haven the battle that she won so together they can cherish life just a little more.
"There is never a moment that goes by that we don't remember the odds Haven beat," says Aja. "We are grateful for the gift we have been given. Every laugh, smile, milestone and breath is because of CHLA."
How you can help
Help local kids like Haven fight their "perfect storm of germs." Give today at CHLA.org/GiveLA.