Clayton Gets Back Up
After a fall from a window left him comatose, a 3-year-old boy begins a remarkable recovery.
On April 19 the Cha family would experience the unimaginable.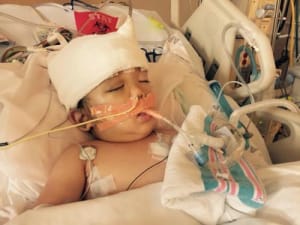 "After the accident, Clayton couldn't walk, talk or do much," says Allis, Clayton's father.
Claty, as his family likes to call him, was 2 at the time. He took a terrifying fall from a third-story bedroom window straight onto his head onto the concrete driveway.
"The first and only thing that the police woman was able to say to me was, 'He's breathing,'" says Jennifer, Clayton's mother. "So I knew it was bad."
He was immediately rushed to an adult hospital nearby. There, Clayton was put under a medically induced coma and fitted with a bolt to measure the pressure on his brain, which is important to watch promptly after a traumatic brain injury. High pressure over a sustained period would result in brain death or severe disability. Over time, the pressure on his brain did not improve and the neurosurgeons at the hospital suggested Clayton undergo an emergency craniotomy—an invasive surgery that would remove part of the bone from the skull to help relieve the swelling in his brain.
Jennifer and Allis were unsure of what their next step should be. So they reached out to someone who could help.
A life-changing decision
"We are, luckily, friends with a neurosurgeon and asked him what the best option was for Clayton," says Allis. "He suggested coming straight to Children's Hospital Los Angeles."
But that was not an easy task. The hospital Clayton was being treated at stressed that the surgery was needed immediately, and if transported, Clayton might succumb to the extreme damage that his brain had suffered.
"Can you imagine being in that position and having to decide?" Allis says. "But coming to CHLA was the biggest and best decision we ever made."
At CHLA, neurosurgeon Erin Kiehna, MD, determined that the invasive surgery was not needed, and instead put Clayton into a much deeper, medically induced coma, dependent on life support, so that there were no brain waves.
"The goal of treatment for severe traumatic brain injury is to prevent secondary injury," says Kiehna. "So, we basically put the brain and body asleep to reduce metabolic demands and try to minimize further brain swelling."
A community of support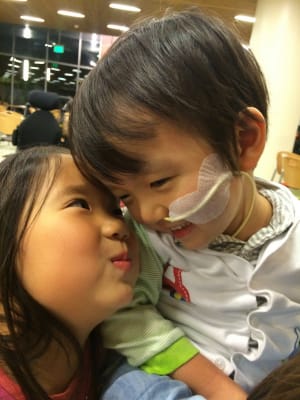 For two weeks, Clayton lay in a deep sleep, healing, while at the same time friends, family and CHLA's staff helped his family heal.
"I would watch home videos of Clayton prior to the accident with mom, because I knew those videos gave her hope of Clayton healing and returning to the fun-loving boy that he was," says Brooke Pritchett, Child Life specialist.
During Clayton's coma, Pritchett even helped find ways for Camryn, Clayton's 5-year-old sister, to "play" with Clayton. Together, they painted Clayton's hand and placed his handprint on a flower bouquet. They wrapped it up the same day and presented it to mom.
"There were just so many people that walked alongside us," says Jennifer. "The community of friends, family and our church helped us get through this—even the staff [at CHLA.] Sometimes Dr. Kiehna would see us in the cafeteria and stop to talk to us. She didn't have to do that, but these were the little things that reassured us."
The waiting game
When Clayton woke from his two-week sedation, the waiting game wasn't over. Doctors were unsure of exactly how severe the brain damage was, and that meant not knowing if Clayton would ever be the same kid.
"I can remember at the time thinking, I can deal with the learning disabilities, I can deal with the left-side weakness, I can deal with that," Jennifer recalls. "I just wanted my son to survive."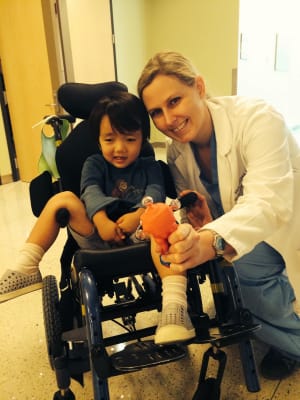 Slowly, Clayton began to progress; he began to breathe on his own and eventually qualified for CHLA's Acute Rehabilitation Program.
"When Clayton began to respond, it was extremely gratifying," says Kiehna. "One of the most fascinating aspects of caring for children is watching how their brains essentially reorganize themselves to overcome injury."
For the next month of therapy, Clayton had to learn how to do everything over again: walk, eat, drink, swallow—everything that a small child would have already learned—all while trying to overcome his short-term memory loss and left-side weakness.
"He was even re-learning basic things like, sitting and holding his head up; He was practically like a newborn baby," says Jennifer.
Miracle boy
Six months later, Clayton has made amazing strides. He is now walking and talking, and cognitively is pretty much back to where he was before the accident. He can also recall what he did at preschool and remembers the bedtime prayer his sister recites to him every night.
His mother and father are taking Claty's recovery day by day, but in the meantime they're appreciating the little things they may have overlooked before.
"Our perspective has shifted," says Allis. "Now we treasure our kids even more, knowing they might not always be there."
Jennifer finishes by saying, "He is here and that's what matters the most."
How you can help
Help #MakeMarchMatter for kids like Clayton. Visit MakeMarchMatter.org today.