A Chance at Life: Little Zara's Story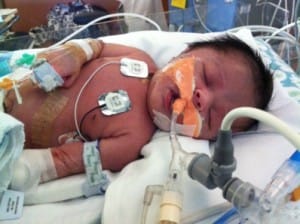 The
Fetal and Neonatal Institute
at Children's Hospital Los Angeles is designed to care for mothers and children from the moment an abnormality is detected in a fetus, through pregnancy and delivery and after birth. That is what the center did for Dinusha de Silva Carrasco, who was five months pregnant when her obstetrician noticed something unusual during a routine ultrasound.
"Within maybe 30 seconds of Dr. Miller doing the ultrasound, he knew exactly what was wrong," says Dinusha. Her unborn baby had a diaphragmatic hernia, a condition in which part of the stomach or intestines protrude through an opening in the diaphragm and into the chest cavity. A subsequent MRI revealed that most of the fetus's organs were on the left side of the lungs. Doctors gave the baby a 50 percent chance of survival.
In the following months, mother and baby were monitored by specialists, including CHLA surgeons and a pediatric cardiologist. Dinusha and her husband also received psychological support to help them prepare for their uncertain future.
'Like a symphony'
On the day she was scheduled to give birth, Dinusha was terrified because she didn't know if her baby would survive. "But it was like a symphony," she says of the environment in the delivery room. "It was quiet, it wasn't rushed, and every single person knew their part."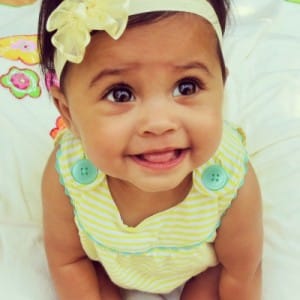 Dinusha saw her newborn daughter, Zara, for only a moment before the infant was intubated and wheeled away to be stabilized and cared for at CHLA's
Newborn and Infant Critical Care Unit
(NICCU).
"What I remember most is the amount of knowledge and support and security we got from Children's Hospital," says Dinusha. "I thought, 'No matter what the outcome is, I know these people are doing the best they can and they are the best at what they're doing.'"
Zara was extremely weak when she was born and required six days on Extracorporeal Membrane Oxygenation (ECMO) machine, a heart-lung bypass system that takes over circulatory and respiratory functions in infants, before she was strong enough to undergo surgery to repair her diaphragmatic hernia. Post-surgery, her recovery was slow but steady.
A happy ending
After 38 days in the NICCU, Zara went home with nothing more than a multivitamin and an as-needed asthma inhaler. Today, Zara is a vibrant, happy toddler who meets all her milestones.
Looking back, Dinusha simply says, "We owe our daughter's life to Children's Hospital Los Angeles."
How you can help
Help give local kids like Zara a chance at life. Give today at CHLA.org/GiveLA.