Boy's Care at CHLA Inspires Hometown Book Drive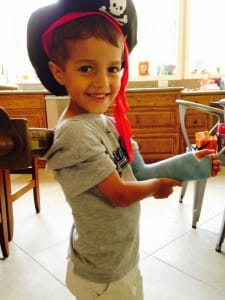 Joshua with his cast.
At just 4 years old, Joshua Solis knows his way to the Children's Orthopaedic Center, notices when kids have casts like he did, and refers to Children's Hospital Los Angeles as "my hospital." That's no surprise since he has been treated by Alexandre Arkader, MD, director of the Musculoskeletal Tumor Program, since he was 9 months old, and Milan Stevanovic, MD, surgeon in the Children's Orthopaedic Center, since he was 2 years old.
Joshua was born with multiple hereditary exostoses (MHE), a rare genetic condition in which lumps develop on the bones. The lumps cause pain, limit movement and may trigger abnormalities such as length discrepancies. In Josh's case, "his bumps hurt" on his knees, shoulders, ribs and wrists.
"So far, he's had two surgeries on his wrists and is monitored by Dr. Arkader for any developmental impacts, increase in pain or abnormalities to see if he will need future surgeries," says Mary Solis, Josh's mother, who also has the same condition.
For the Solis family, that means many more trips to CHLA and time spent in waiting areas, which can be scary and anxious. To help ease their anxiety, the Solis family turned to books and the Literally Healing Program at CHLA.
The Literally Healing Program is a dedicated therapeutic library with more than 1,000 specially selected books designed to help children build courage and hope during their stay. It also provides patients with a source of distraction during their recovery.
"Reading normalizes the hospital experience, promotes literacy in children who start life with a disadvantage, and supports both playful and soothing interactions between parents and children," says Claire Austin, director of Literally Healing. 
The Solis family knows firsthand the power of books in a health care system and wanted to give back to a program that continues to offer them and other families so much comfort. "Helping the program seemed to serve as a good alternative focus for him during his visits," says Mary. "On the morning of Joshua's surgery, instead of thinking or talking about things like 'the medicine' or 'those tiger jammies,' he talked about getting books for other kids to help them, just like it helped him."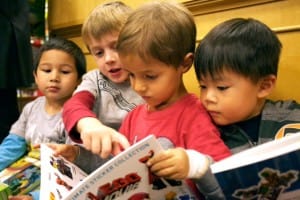 Joshua (center) reads to his friends.
 (Courtesy of Loren Townsley from The Acorn Newspaper)
  "I love books," says Joshua, whose favorites are any that involve Cars or Teenage Mutant Ninja Turtles. "I love stories. I can talk to my friends with them and they can like the books too. We like to get to the last page of the book."  
Their initial donations started off with just several shopping bags full of books, but the support quickly grew from family, friends—even Josh's preschool rallied behind his ambition. "People started asking what Joshua needed and we told them the best way to help him would be to donate a new book or gift card," says Mary. "That's when the emails and Facebook posts started spreading and were noticed by the City of Calabasas, our hometown." In just two short weeks, a weeklong book drive (held in store and online) and kick-off party were set up to take place at the Barnes & Noble in Calabasas. The party proved that 4-year-old Joshua was one popular kid in his hometown when Calabasas Mayor David Shapiro, L.A. County Fire Station #68 firefighters, local city councilmembers, local Girl Scouts and Brownies, teachers and even Tom Bergeron, host of "Dancing with the Stars" and a strong supporter of CHLA, showed up to read during story time.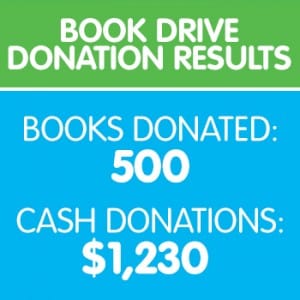 Although book reading was the main event, there was also face painting, live music, crafts, a scavenger hunt, a yoga session for kids, a pizza and pajama party and, to end the day, "Cozy Tales and Cocoa." "Everyone donated their time and talent," says Mary. "In fact, two patrons who attended the event were so moved that they donated six extra large pizzas. Not only did the support and coming together help rally and aid Joshua's recovery, but it really brought everyone together for an incredibly special afternoon."Through the efforts of Solis' family and friends, they were able to collect approximately 500 books, over $1,000 in gift cards and more than $220 from Fresh Brothers, a local pizzeria that donated proceeds from the day's sales. "It was wonderful to see so many kids and families excited to give back and support CHLA and we were thrilled and overwhelmed by the amazing response, especially since the drive grew so quickly!" says Mary. "We also saw how readily other kids can embrace and understand the concept of giving new books to help other kids, and loved the opportunity to come together.  We hope others are inspired to support this amazing program." The Literally Healing Program gives over 30,000 new books each year to patients and their siblings—one reason why book donations are so essential to the program. However, Josh puts it in simpler words: "I really want to help them, because I really love them so much. [CHLA] has my favorite playground." If you would like to help the Literally Healing Program, please visit our Amazon wish list.