Jennifer Raymond, MD
Lessons Learned From Challenges Faced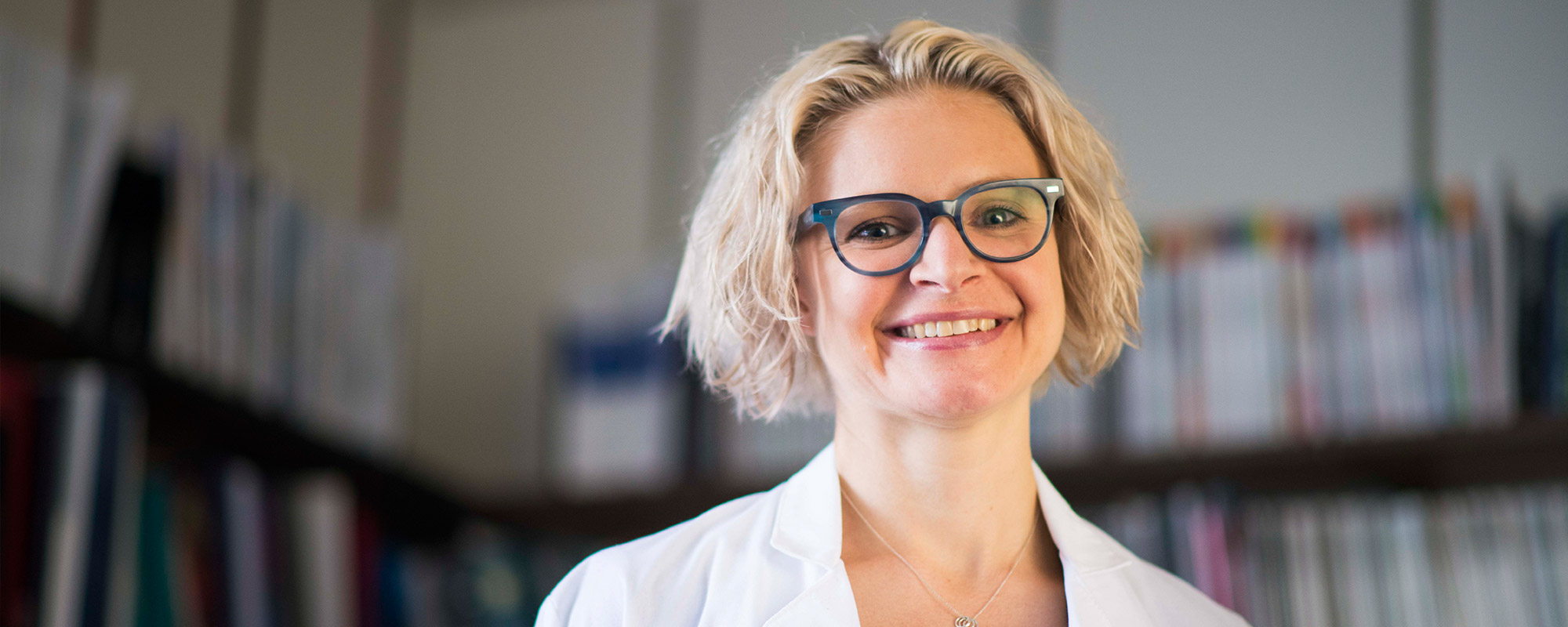 Jennifer Raymond, MD, MCR, grew up in Garnett, Kansas, earned her undergraduate degree at Kansas State University, received her medical degree at University of Kansas, and earned a Master of Clinical Research degree at Oregon Health and Science University. Before coming to CHLA in 2016, she was founding director of the Diabetes Team Clinic at the University of Colorado School of Medicine. In addition to caring for patients with type 1 diabetes and other endocrine disorders, she conducts clinical research in type 1 diabetes and telemedicine. She loves CHLA for its diversity, noting that it "leads to an amazing mix of experiences, expertise and insight," as well as the opportunity the hospital gives her to have a substantial impact on patients, families, staff and health care in general.
Five Questions
1. What did you say when you were a young girl and someone asked: "What do you want to be when you grow up?"
I wanted to find a way to genuinely help people. I wanted to a run a business, be a teacher, and help people improve their lives—being a physician scientist combines all of these desires.
2. When did you realize you wanted to be a scientist?
I took an anatomy class to help clarify what I wanted to do. One of our first classes started with a review of the placenta and pregnancy—I was blown away. I called my mom that night and told her I wanted to be a doctor.
In medical school, I realized pediatrics was the place to focus my efforts. During my residency training, I was drawn to diabetes for a number of reasons, including the ability to develop continued relationships with my patients, the importance of behavioral health in the management of chronic disease, and the opportunity to be an advocate for patients.
I found myself constantly asking questions about how to improve patient care. I wanted to understand human behavior, especially in chronic disease, and I was also very interested in how medical professionals interact with patients. This constant desire for knowledge, improvement in care delivery, and changing our medical system drove me to research.
3. Name a challenge you faced in your journey to where you are now.
I had no idea I would be doing what I am doing now when I started my journey. My biggest challenges have been learning lessons I didn't know I needed to learn. If you don't know what questions to ask or you don't have someone guiding you through the process, you sometimes learn lessons from missteps. However, I honestly feel the challenges I have faced make me a better physician, scientist, mentor and person. I am helping others learn from the challenges I have encountered, and I am making the path better for the next person.
4. Did anyone say to you, "You can't do that because you're a girl?"
Absolutely. I think girls hear this from the time they are little. They hear it from peers, media, books and movies. However, my mom constantly told me I could do anything I wanted to do—and she went out of her way to show me it was possible. She was an incredible role model for me—a strong woman going beyond what was expected due to her own hard work, determination and genuine desire to improve the world for others.
Unfortunately, girls are still not encouraged and supported equally to boys in medicine, science or technology. However, I am working to change it! My son now asks why there are boy doctors because his model is a female physician. He will never assume boys are doctors and girls have another role in medicine. He is growing up knowing girls are physicians, scientists, engineers and anything else they pursue!
5. What would you tell a young girl right now who wants to be a scientist?
You can absolutely do it! You are smart, capable, and bound for success. You may be told you can't do something, or you may be told it is a "boy's job," but that is not correct. There are strong female role models everywhere. Find one. Ask her to mentor you. As a successful female in science, we want to support the next generation. You are going to make this world great—and I personally can't wait to help you in the process. Speak up, don't apologize, ask questions, challenge the expected, and be proud!
Jennifer Raymond, MD, MCR, is clinical director of Diabetes at the Center for Endocrinology, Diabetes and Metabolism and vice chair of the Executive Telehealth Committee at Children's Hospital Los Angeles, and associate professor of Clinical Pediatrics at the Keck School of Medicine of the University of Southern California.