Rhonda Foster, EdD, RN
Bitten by the Leadership Bug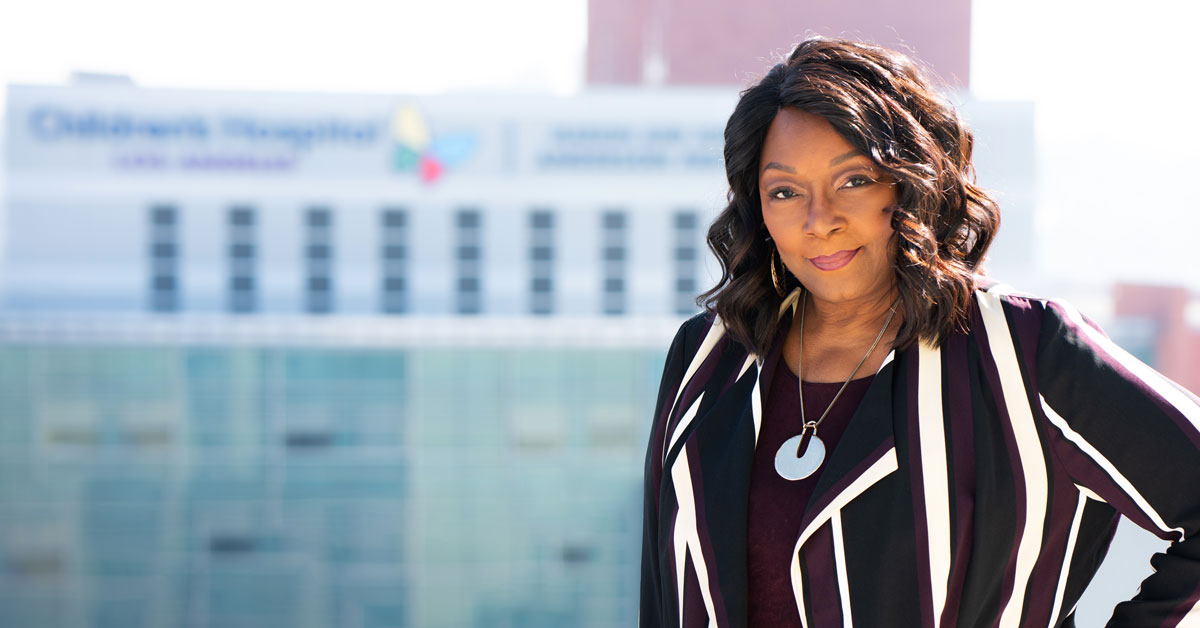 "I'm a fighter for the underdog because not everyone has a voice," says Rhonda Foster, Chief Nursing Officer and Vice President of Patient Care.
By Eunice Oh

Rhonda Foster, EdD, MPH, MS, RN, NEA-BC, always knew she wanted to work in the medical field. Just not as a nurse.
"Truthfully, it didn't seem exciting enough," she says, laughing. "Oh boy, was I wrong."
Three decades later, Dr. Foster can't imagine doing anything else. Today, she serves as Chief Nursing Officer and Vice President of Patient Care at Children's Hospital Los Angeles, overseeing strategic direction for all nursing-related operations across the institution.
Simply put: "I make sure that the nurses and other caregivers take good care of our patients," she says of her job description.
With more than 2,500 team members under her leadership, Dr. Foster knows the decisions she makes can have an institution-wide impact. And that's why she's never been afraid to challenge the status quo.
"I always ask this question when we're making a decision and there's a lot of debate. Forget 'policies,' forget what's the 'norm.' At the end of the day, what's in the best interest of the patient and that family?" says Dr. Foster. "There's a patient whose life is in our hands, and I can't let our staff forget about that."
"I'm a fighter for the underdog," she adds, "because not everyone has a voice."
A need for change
Dr. Foster found her own voice as an ardent patient advocate when she first began caring for patients in the late '70s in Ohio. As a young staff nurse, she didn't just want to be technically good, she wanted to be the best at connecting with people and establishing trust—the person who could get patients to eat, encourage them to talk, make someone finally crack a smile.
Being so entrenched in these day-to-day interactions is ironically what led Dr. Foster to step away from direct patient care.
"The leadership bug came because I wanted to be involved in the decisions that affected my work," she shares. "At the time, it was normal to have a manager who called all the shots and would just tell you what to do. But when something didn't go right, I thought, 'Why didn't they just ask us? We could have told them that wouldn't work.' It could be about anything, from changing a procedure to switching equipment."
Those formative years shaped how she approaches her current role. "It would be crazy for me to make decisions without engaging the people closest to the patients," she says. "I don't necessarily provide patient care anymore myself—but I still care."
Overcoming obstacles
Leadership had never been on Dr. Foster's career map. In fact, she was cautioned about aspiring too high. While earning her associate's degree, she remembers an instructor telling her she would "be more suited to be a licensed practical nurse." Being a registered nurse required higher education and came with a different set of responsibilities.
"I was so naïve back then," she recalls. "I didn't realize how demeaning that comment was, so I just continued to forge ahead."
Dr. Foster not only obtained a bachelor's in nursing—becoming the first member of her family to graduate from college—she went on to complete a master's-level nursing program at Georgetown University, a master's degree in public health from Northwest Ohio Consortium and a doctorate of education in leadership studies from Bowling Green State University.
Asked to describe the greatest challenge she's faced in her career, Dr. Foster pauses for a moment. "Prejudice and discrimination," she says after some reflection. She thinks about the instances when she was told that her goals might be too out of reach, the time she was the only student in a group project to receive a lower grade than her peers, and being given "career advice" that she should straighten her hair before an interview.
"To me, all I'm thinking is, I'm Rhonda. I'm a nurse. I care," says Dr. Foster. "And I'm brown. What does my hair have to do with my qualifications?"
A chance encounter
Before embarking on the nursing path, Dr. Foster thought she wanted to work in an operating room, perhaps as a surgical technician. The dynamic, high stakes environment was alluring, but there was one key element missing that she craved.
"Interaction with patients was limited. You can't do that. They're asleep on the table!" she says. "As a nurse, you get that chance to build relationships and really get to know them. You can have such an impact on somebody's life, and their families, and they will remember you forever."
Early in her career, Dr. Foster worked in labor and delivery. For the most part, her days were filled with joy and celebration, but there were also moments of grief and sorrow, like the time one young patient was rushed into an emergency C-section after laboring all night. "The surgery went bad. It went bad, fast," she recalls.
Something had gone wrong with the anesthesia. The baby "came out blue, no oxygen," and the mother was later transferred to the intensive care unit where she was put on, and eventually taken off, life support. Dr. Foster attended the woman's funeral.
Sharing this somber memory, Dr. Foster begins to light up: "There is an upside to this story." About a decade ago, by sheer happenstance, her mom ran into someone who had been part of her former bowling league—and who happened to be that baby's father. After all those years, the man remembered Dr. Foster's name and that she was present when his daughter was born. The young girl had grown up and was doing well, and her proud father wanted to show how healthy and happy she was, so he sent Dr. Foster some photos.
"Isn't that something? See, that connection," she says, "that makes me smile."
Hope-filled futures
Dr. Foster is quick to credit her family for much of her success, and the high school counselor who steered her toward nursing. Growing up surrounded by people who squashed any self-doubt propelled her to continuously aim high. And that's the same method she uses as a hospital executive.
"I pursued leadership because I wanted to affect change, but I fell in love with it when I was able to engage with and help develop team members," says Dr. Foster. "I like stretching people intellectually because on a fundamental level I'm looking for people who can uphold the hospital's mission."
Dr. Foster takes her work seriously, but a day won't go by without laughter coming out of her office, and she cherishes impromptu chats with kids and families in the hallways of the hospital. "If I was just treading water, I'd be so bored," she says.
There are so many parts of the job that Dr. Foster finds satisfying—knowing she can make a difference, rallying her team to be the best they can be, seeing the trust parents put in her hands—but one does stand out above the rest.
"Hope. Hope about our patients' futures, about their ability to succeed, about their chance to aspire," she says. "People did it for me. Now I'm getting the chance to do the same."
Meet more Inspiring Women
To read more stories like Dr. Foster's, visit CHLA Inspiring Women.