It's Baby Safety Month: Should you use rear-face car seats?
By Pearl Ruiz Recently, there has been buzz about the new recommendations from the American Academy of Pediatrics (AAP) about keeping your kids rear-facing until age 2 or until they reach the maximum weight or height on their car seat.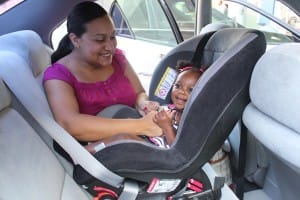 These recommendations were provided in March 2011, making them stronger and safer than the previous recommendation for rear-facing your children until they reach the maximum weight or height limits of their car seat, but up to at least 1 year of age or 20 pounds. However, most parents are not keeping children rear facing until they reach the maximum weight limit.
Forward-facing Too Soon
Instead, parents are prematurely turning their kids around into the forward-facing position. Most parents are excited to turn their children forward-facing because it is more convenient and they want to be able to see their children. But safety should be the priority for their child, not convenience. It is common for parents to turn their children to forward-facing too soon and state laws often support less safe practices. Children who ride rear-facing are less likely to die or severely injure their cervical spine in a crash. It is important to understand what happens in a crash before deciding to turn your child forward-facing.
Why Rear-Facing Seats Keep Kids Safer
When your child is rear-facing, his or her head, neck, and spine are better supported during a car crash. When your child is forward-facing, the head, neck and spine all move forward in an aggressive movement, putting your child at a higher risk of death and spinal cord and brain injury.
Parents often turn their children forward-facing because they are concerned with their child's legs touching the back of the vehicle seat. According to Safety Belt Safe USA, there is no evidence showing that children with longer legs are at higher risk in a crash. Adults may be sore or achy from bending legs or keeping them in one position for a long time, but children actually will bend their legs for comfort. The AAP is more concerned with head and neck injuries than they are with leg comfort.
Convertible Car Seats
When your child is ready to move from an infant carrier but is too young for a forward facing seat, your next step is a convertible seat. Convertible car seats are designed to reach weights up to 35-45 pounds rear-facing. A convertible seat allows for older and heavier children to ride rear-facing as long as possible. It is important to understand that the AAP recommendation to keep children rear-facing up to 2 years of age is a minimum recommendation. Children should remain rear-facing until they reach the maximum weight and height limits on their car seat. Your child's car seat's weight and height limits should be used as a guide for when you should turn them forward.
In addition, when looking for a new convertible car seat, make sure that it fits in your car. Remember, these seats are made for bigger children and therefore will take up more vehicle space. Car seats come in all shapes and sizes so it is important that you get the right fit for your car.
State Laws
Many states have varying policies around car seat use. In California, the law requires children to travel in a car seat until they reach 6 years of age or 60 pounds. However, certified Child Passenger Safety Technicians (CPST) in the Injury Prevention Program at Children's Hospital Los Angeles recommend the more rigorous safety measures for children, traveling in an appropriate car seat until they reach 8 years of age AND 80 pounds. The Injury Prevention Program provides free car seat inspections to the community through appointments and facilitates bi-monthly car seat classes for the community on child passenger safety.
For more information visit us at CHLA.org/INJURYPREVENTION.
Pearl Ruiz, CPST, is a project assistant in the CHLA Injury Prevention Program.