Pain Medicine Clinic Provides Relief for Kids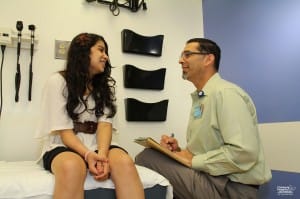 Unlike when we have the flu or a broken bone, it's not always visible when pain keeps us from feeling our best. And when pain is chronic, it can have devastating effects on personal relationships, mood, behaviors and sleep habits. At the Pediatric Pain Management Clinic, children and adolescents with chronic pain have a chance to find relief through massage, acupuncture and more traditional therapies, such as psychotherapy and biofeedback. From patients recovering from surgery to those with fibromyalgia, this clinic helps them return to their daily life.
Tune In
The inspiring work done in the Pain Management Clinic was featured on Channel 2 (KCBS) on Friday, April 4. Click here to watch. As a preview before the KCBS segement, I spoke with Clinic Director, Jeffrey I. Gold, MD and Heart Touch Massage Therapist, Alice Wilson, about what they do.
Interview with Dr. Gold and Alice Wilson
Q: Dr. Gold, your background is in clinical psychology. What sparked your interest in chronic pain and pain management? 
Gold: I was trained in pediatric psychology, which focuses on the intersection of medicine and psychology. I grew particularly interested in pain management after working with children with chronic illness, such as sickle cell disease, where the treatment of patients revolves around reducing pain.
Q: This interest inspired you to start the Pediatric Pain Management Clinic at Children's Hospital Los Angeles (CHLA), but what exactly does the Pain Clinic do?
Gold: The Pain Clinic at CHLA is a one-stop-shop, providing multiple services under the same roof, which lessens the burden on the patient and family. Our main goal is to decrease chronic pain and increase daily function. To do this, we have an interdisciplinary medical team made up of social workers, psychologists and physicians who conduct an initial chronic pain evaluation and make treatment recommendations.
Q: Part of your treatment recommendations are "Eastern-style" remedies, such as massage and acupuncture. Are patients hesitant to try these non-traditional treatments? 
Gold: Although we are practicing in a Western medical center, patients and families are very open, interested and excited to have alternatives to medication for the management of their pain. Occasionally, patients are hesitant to try acupuncture because of the needles, but the acupuncture staff is outstanding at putting the patients at ease and introducing the acupuncture needles in a calm and gentle manner.
Q: What type of results do you see?
Gold: The results we see on a daily basis are absolutely amazing. Patients and families who embrace a complete understanding of their pain and treatment reap the most benefits.
Wilson: I agree. The results are incredible. In terms of massage, most of the patients feel great, love the experience and look forward to more. Patients with fibromyalgia can be extremely sensitive to touch and it takes time for them to be able to receive touch without so much pain. I think the combination of acupuncture and massage helps that process.
Q: Do you think massage and acupuncture might take the place of traditional pain medications for some patients? 
Gold: I believe that medications and complementary and alternative medicine (CAM) practices (like acupuncture and massage) will always have a place, side-by-side, especially in the management of chronic pain. The goal is to always treat patients with the least invasive methods that produce the least amount of side effects, with the greatest functional gains. Combining CAM therapies with medication strives to achieve that goal.
Q: Finally, Alice, what do you like most about working at Children's Hospital Los Angeles?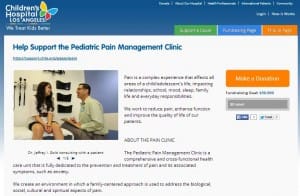 Wilson: I like working at CHLA because I am able to work with children who need and benefit from massage in a safe and supported environment. Working with the patients in the Pain Management Clinic is a team effort and I am part of that team. We all work together to help the patients find their way to better health and wholeness.  I personally believe in being of service and I'm grateful to have a place where I can use my skills in such a positive and rewarding way.
Click here to support the services provided at the Pediatric Pain Clinic
.