Meditation to Help Reduce Stress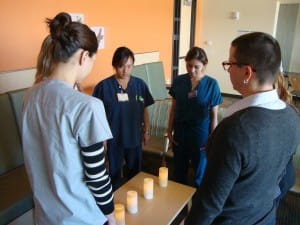 Having a child sick and hospitalized can be challenging on many levels, especially emotionally. At Children's Hospital Los Angeles, we partner with you to ensure your child receives the best care, at the bedside and after you return home. With that, we're thinking about your care too, which is what inspired this blog post to let you know about our meditation sessions for families.
Rev. Tina Gauthier, PhD, is an ordained Zen Buddhist priest and an interfaith chaplain within the Spiritual Care and Clinical Pastoral Program at Children's Hospital Los Angeles. Tina is leading secular meditation sessions for stress reduction through mindfulness and meditation for staff and patient families thanks to generous funding by the LIATIS Foundation.
"Mindfulness for stress reduction is a type of meditation offered in a variety of faiths or no faiths and works for everyone. It focuses on the breathe, sound, body and mind. Each session can help people cope with their reactions to the many sounds and difficult situations within a hospital environment through breathing exercises, shifting into being in the body and accepting the mind the way it is. Mindfulness is to be in present moment and observe thoughts and feelings from a distance," explained Gauthier. "It is a practice of continuously returning to the present moment. It is natural for our minds to have streams of thoughts all day long, but often these thoughts take us out of the present moment."
Meditation Sessions Offered to Patient Families
Patient families may benefit from meditation and mindfulness during their time of crisis, stress or for general health. The patient family meditation sessions will take place every Tuesday from 12:30 – 1 p.m. in the Third Floor Family Lounge through February 2014. If you know of a family at Children's Hospital Los Angeles that can benefit from a meditation session, please encourage them attend.
If you cannot attend a meditation session on Tuesdays, we recommend visiting the Joyce and Stanley Black Healing and Meditation Garden (across from the hospital's gift shop) for some healing and relaxation.