She's Been Volunteering at Children's Hospital Los Angeles Since the 60s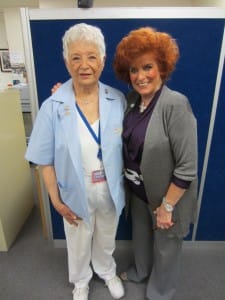 Children's Hospital Los Angeles volunteer Marie Cassanelli, 87, likes to refer to her time at the hospital as her "tenure." Why not? She has been a dedicated hospital volunteer since the mid-1960s and if there was such a thing as an honorary degree for volunteer service, Cassanelli would be worthy of the accolade for her 50 years of dedication to staff and patients. "We are lucky to have volunteers stay for six months," says Wendi Kellaris, manager of Volunteer Resources at Children's Hospital Los Angeles. "To have someone who has devoted their time for 50 years is truly remarkable."
Cassanelli's journey at Children's Hospital first began in 1960 when her 4-year-old son began to have breathing complications. It was here when she found out her son had epiglottitis, a potentially life-threatening condition that occurs when the epiglottis swells, obstructing the windpipe. Her son had a hospital stay of six days and never once did Cassanelli leave his side. It was during this time when she noticed the great care provided by the nursing staff. Three years later, she returned to thank the hospital that treated her son by offering to volunteer ... and she never left.
In everything she does, Cassanelli has quietly demonstrated commitment and tremendous spirit and heart, taking pride in the numerous tasks she has performed at Children's Hospital Los Angeles, jobs she describes as the most meaningful to her.
"One of my responsibilities is to pack together patient's belongings," says Cassanelli, who currently works in the Ambulatory Surgery Center at Children's Hospital Los Angeles. "I make sure their clothes are folded neatly and put away. These are the things I can help with to alleviate some of the work that nurses do and that is the most important part of my job." 
Among other duties, Cassanelli has worked on the 5th floor filing records and in the Dermatology Clinic making and reading slides. Through all this time and committed service, Cassanelli never wanted recognition, but the department honored her five decades of work at the most recent Volunteer Service Luncheon, where she told a room full of friends and co-volunteers, "When I step off the elevator and walk to Volunteer Resources, I feel important, like I'm somebody."
"I want to show the younger generation that your legacy does not come from who you are or the job you have; it comes from what you do for others."