Introducing the Safety Corner in the Family Pantry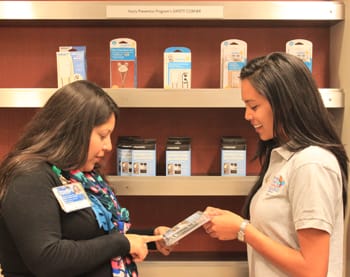 The Trauma Program's Injury Prevention Program at Children's Hospital Los Angeles has partnered with the food services department to open the Safety Corner in the Family Pantry in the Anderson Pavilion.
The corner, which can be found next to the HBO Café, provides patients, families and employees with the opportunity to purchase home safety items at wholesale prices. The goal of the program to help patients and their families build safer home environments at an affordable cost.
A variety of home safety items will be offered including:
smoke detectors,
carbon monoxide alarms,
oven locks,
toilet lid locks,
window guards,
bike helmets,
outlet covers,
refrigerator latches
and many more injury prevention safeguards!
A few home safety items are already available for purchase in the Injury Prevention Program's Safety Corner in the Family Pantry. A full-line of home safety equipment will be available starting February 1, 2012.
About the Injury Prevention Program
The Injury Prevention Program aims to reduce the number of unintentional injuries of children at home by making home safety items more available and affordable.
Make it your new year's resolution to build a safer environment for your family by taking a moment to look for potential hazards in your home. While constant adult supervision is the best way to keep your child safe at home, it never hurts to have added protection!
Tips for a Safer Home
Install working smoke alarms and carbon monoxide (CO2) detectors in every level of your home, in each bedroom and outside every sleeping area. Test the alarms every month and replace the batteries at least once a year.  
Keep matches, lighters, candles and heat sources out of reach of children.
Store appliances and electrical devices properly.
Don't overload outlets and use covers when they're not in use.
Set your water heater temperature at 120 degrees to help prevent scalding and to save energy.
Use cordless window products, if possible. If not, cut the cords short, eliminating the loops and tie them out of reach to avoid strangulation.
Install window guards or stops on all windows to prevent them from opening more than 4 inches.
Eliminate openings of more than 3 ½ inches in stair railings, balconies and furniture where children can easily squeeze in.
For households with small children under the age of 5, keep rooms free of items that can fit into a small parts tester or toilet paper tube to prevent choking.
Install hardware-mounted gates at the top and bottom of the stairs.
Keep hallways and stairways well-lit and free of clutter.
Tack down rugs and runners to avoid tripping
Practice safe zones that are secure and safe areas for children to play. Keep dangerous areas off limits such as kitchens and bathrooms, utilizing doors and gates to block entrances as needed.