Introducing the Marion and John E. Anderson Pavilion
Today, Marion Anderson, longtime supporter of Children's Hospital Los Angeles, formally announced a $50 million transformative gift for the New Hospital Building (NHB) during an event at the hospital.
The NHB will be known as the Marion and John E. Anderson Pavilion when the hospital begins to treat patients in the state-of-the-art facility July 10.
"We feel so fortunate to be able to make this gift to the children of Southern California and beyond," says Marion, co-chair of the Board of Trustees and of Living Proof: the Campaign for Children's Hospital Los Angeles. "Children's Hospital Los Angeles saves lives and offers hope to tens of thousands of children and families each year. This gift is our way of saying thank you to everyone at the hospital.
"Their work is amazing and John and I can't think of a more deserving institution."
The morning event took place in the HBO Café inside the Anderson Pavilion. Richard Cordova, FACHE, president and CEO of Children's Hospital, spoke about the Anderson's gracious gift along with John D. "Jack" Pettker, Marion's Board and Living Proof co-chair, and Henri Ford, MD, MHA, vice president and chief of Surgery at Children's Hospital.
Pettker presented Marion with a crystal butterfly, signifying the transformative gift that she and her husband have made to the hospital. Patients who appeared on the hit television show "Glee" performed for Marion as well.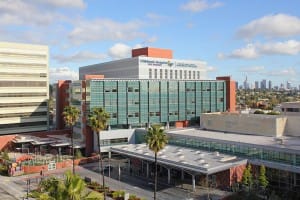 For 22 years, the Andersons have tirelessly devoted themselves to making Children's Hospital Los Angeles the best children's hospital in the western United States. Marion has served on the hospital's Board of Trustees since 1989.
Under her leadership, the Living Proof Campaign raised more than $1 billion – making it the most successful fundraising effort in hospital history, as well as the only single fundraising campaign by a freestanding independent children's hospital to raise as much.
"We are thrilled beyond words by Marion and John's gift," Cordova says. "It's the latest in a long line of generous support from these two leaders of the Los Angeles philanthropic community."