Former Patient Gives the Hearing and Speech Clinic a New Look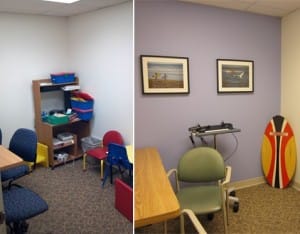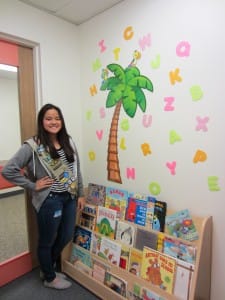 The Hearing and Speech Clinic at Children's Hospital Los Angeles unveiled a newly revamped space on Jan. 28 with a celebratory ribbon-cutting that thanked former Children's Hospital patient and current Girl Scout, Lauren Lee.
"We just want to thank Lauren for all her hard-work and celebrate her project for the Hearing and Speech Clinic," said Christopher G. Stevens, M.S., CCC-SLP, Hearing & Speech Manager.
Lauren's Vision for the Clinic
The Girl Scout, who was treated at the clinic for stuttering at the age of three, hosted fundraisers at local restaurants and held bake sales since October to give back to a place where she spent much of her time and that helped her so much.
"I loved my experience and have good memories of the Hearing and Speech Clinic staff, but at the time, the surroundings were not kid-friendly," said Lauren Lee. "The blank décor of the clinic just did not do the kind staff justice."
The ambitious Girl Scout, who is attempting to obtain her Girl Scout Gold Award, came up with the theme for each Speech Therapy treatment and raised enough money to purchase new wall art for the reading corner and new frames for scenic L.A. photos to be displayed in the hallways.
The Speech and Audiology Stars
Through this venture, Lauren also conceptualized a special project that she holds close to her heart: The Speech and Audiology Stars.
"The idea is to feature children who have 'graduated' from the program, allowing them to have their moment, be proud of what they have accomplished and let other patients see kids like themselves," explained Christine Lee, mother of Lauren Lee. "This is what Lauren would have wanted when she was attending the clinic."
To date, Lauren has raised more than $250 and continues to hold more fundraising events. The clinic that provides outpatient speech therapy and audiology services to infants, children, and adolescents also received a fresh coat of paint and new signage.