Costco Wholesale's $10 Million Gift Will Benefit Patients Like Eileen Garrido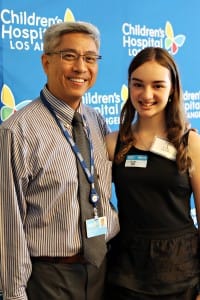 Fifteen-year-old Eileen Garrido is an accomplished singer, Junior Ambassador for Children's Hospital, founder of the Beating Hearts Foundation and a long-time patient of CHLA. This past Wednesday, Eileen was CHLA's honorary guest at Costco Wholesale's philanthropic event and witnessed the corporation's generous donation of $10 million—the largest single corporate gift in the hospital's history.
"Costco's generous gift will directly impact our ability to provide world-class pediatric care, conduct ground-breaking medical research and train the next generation of clinicians," says Richard D. Cordova, FACHE, president and CEO of Children's Hospital Los Angeles. "It takes all of these things working together to provide the life-giving and life-saving programs that help the 104,000 children we treat annually at the hospital."
At the event, the second floor of the hospital's Marion and John E. Anderson Pavilion was named in Costco's honor. The second floor is home to CHLA's prestigious Heart Institute, which is ranked among the best in the nation for pediatric cardiology and heart surgery by U.S. News & World Report and holds special meaning to heart patients like Eileen. "Without this amazing division of CHLA, I would not be here today," says Eileen.
At birth, Eileen was diagnosed with Tetralogy of Fallot, a serious heart condition which leads to poor oxygenation in the child and potentially, heart failure. Children's Hospital Los Angeles was able to perform three life-saving heart surgeries—the first at just a month old. Now, the ambitious young girl is giving back through her Beating Hearts Foundation, which is dedicated to helping raise funds for Children's Hospital Los Angeles.
Before singing a special song written for Children's Hospital Los Angeles titled You Need to Show, Eileen says, "CHLA is my second home. They not only saved my life, but enriched it." Thanks to Costco, children like Eileen are able to receive quality and advanced healthcare.