Children's Hospital Los Angeles Supports Supreme Court Ruling upholding the Affordable Care Act
Children's Hospital Los Angeles president urges California lawmakers to expand the Medi-Cal program and protect specialty care services at children's hospitals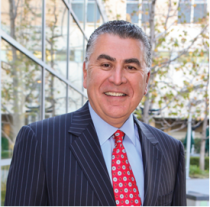 "This is great news to Children's Hospital Los Angeles because the ruling in support of the Affordable Care Act (ACA) allows health care benefits for children to continue and ensures their well-being," says Richard D. Cordova, FACHE, President and CEO of Children's Hospital Los Angeles.
"We support the expansion of coverage to the uninsured and the expansion of the Medi-Cal program in California," says Cordova. "Even though the ruling allows states to decide on their own if they want to expand their Medicaid program, I expect California will move ahead and implement the Medicaid expansion," says Cordova, explaining that the ACA will fund the expansion in its first year before the state takes on additional responsibility.
"We also urge the state to protect programs unique to children's hospitals, since most treat to a high volume of Medi-Cal patients," he says. "Because we provide numerous pediatric specialty services for our patients, Medi-Cal reimbursements for those specialty services have to safeguarded. That will enable us to provide the highest quality of care for our children."
The hospital also endorses other health care provisions the court upheld with its Thursday ruling, Cordova said. The ACA instituted safeguards allowing children with preexisting conditions coverage under private insurance and permitting families to keep children on their private policies until age 26. The ruling also upholds innovations such as "no cost sharing" for preventative care, like immunizations, and protects children from yearly and lifetime caps on insurance coverage.
"We are also pleased that temporary increases in Medi-Cal reimbursement rates for pediatricians and pediatric specialists will stay in place so we can provide appropriate care," Cordova says.
"And finally, the court has endorsed the infrastructure to control costs while providing quality child health care," he says. "Programs like the Center for Medicare and Medicaid Innovations grant program will create innovative care solutions for children.  Children's Hospital Los Angeles is working to provide ideas to reduce health care costs while emphasizing the need to protect child health care coverage," he says.