Children's Hospital Los Angeles Donates to Haiti's Kids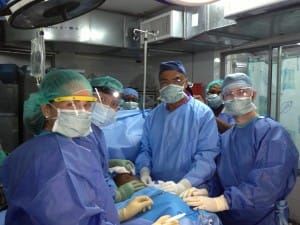 In just a few days, Henri Ford, MD, MHA, surgeon-in-chief at Children's Hospital Los Angeles will fly to his native country, Haiti, to help oversee the distribution of donated pediatric medical equipment, supplies and hospital furniture. The entire shipment is valued at $326,102 and is comprised entirely of donations from Children's Hospital Los Angeles to support the Caribbean's ongoing efforts to recover from the tragic 7.0 earthquake that struck the island three years ago.
"This represents a generous donation of specialized medical equipment, hospital bed frames, cribs, pediatric ventilators, incubator warmers and other supplies that are in short supply and badly needed in Haiti. The hospitalized children will benefit greatly," says Dr. Ford.
The equipment and furniture became available when Children's Hospital Los Angeles vacated its old inpatient hospital building on Sunset Boulevard and moved into the new 317-bed Marion and John E. Anderson Pavilion. Prior to shipping the goods, hospital administrators hosted Haitian health officials to review the donation, which filled six cargo containers. The contribution enabled the hospital to save money on disposal and salvage costs, while helping a country in need.
The items donated to help kids in Haiti include:
60 hospital beds
26 cribs
118 bedside nightstand tables
47 over-bed tables
31 parent sleeper chairs
6 medical scales
61 cardiac monitors
88 linen hampers
10 pediatric ventilators
24 incubator warmers
1 portable exam light
23 I.V. pumps with poles
1 exam table
17 anesthesia carts
1 wheelchair
1 motorized wheelchair
125 office chairs
30 task chairs
Medical supplies
Dr. Ford is also playing a key role on the board of directors of a new teaching hospital in Haiti, the recently completed "Hôpital Universitaire de Mirebalais," which is expected to open to inpatients later this year. Ford shares,
"We need one great academic health center in Haiti, and we have to make sure it succeeds. Ultimately, our hope is to replicate this approach elsewhere in the country to meet the health needs of the Haitian people."