Star Wars Shows the Ways of the Force to CHLA Younglings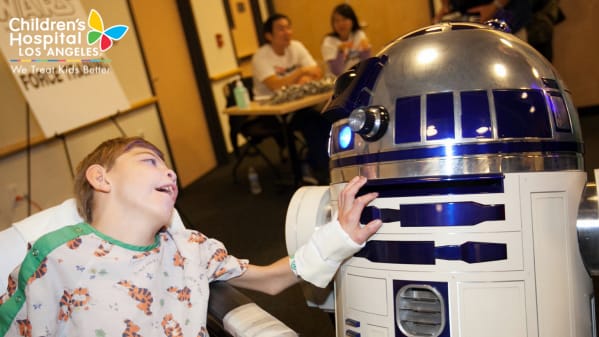 On Friday, Dec. 4, the Star Wars: Force for Change program that promotes healing through creative inspiration and collaborative innovation supported by Lucasfilms, helped our patients harness their inner power as they hosted various activities for our patients to participate in. Some of the highlights of the day included:
The kids got to practice their light-saber skills through the Jedi Training Academy and they helped engage our patients relax and heal through breathing exercises. The training also helped patients and their families find their "inner force."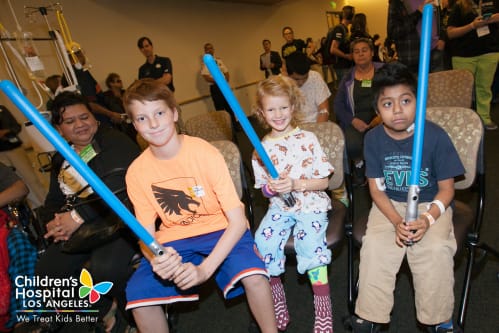 Costumed characters from the 501st Legion all-volunteer group of Jedi's to Storm Troopers interacting with the kids and bringing smiles to the faces of kids.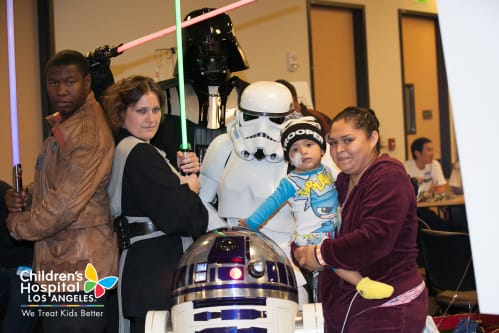 A visit and autograph session with Mark Hamill, actor, who played Luke Skywalker in the first three Star Wars movies, and Steve Blum, character voice from The Rebels.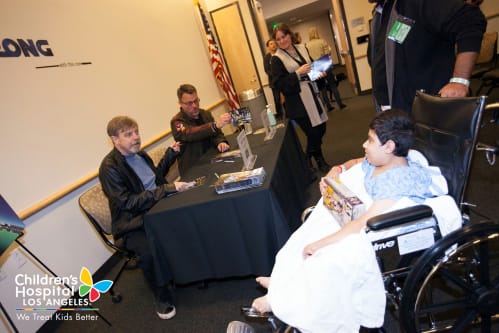 Video games station Interactive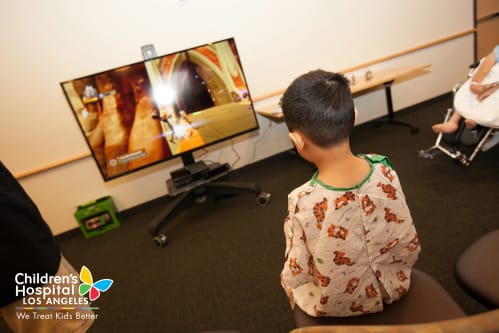 A visit to the Rehabilitation floor, Pediatric Intensive Care Unit, Cardiovascular Acute Unit and Cardiothoracic Intensive Care Unit.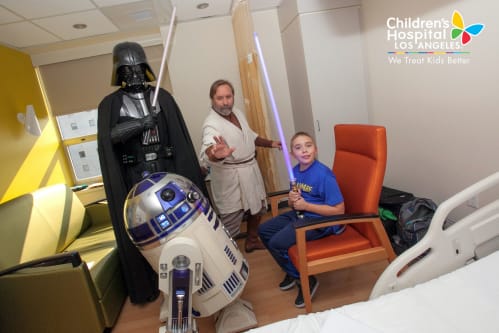 And, it wasn't just our patients that had a wonderful time, their parents and siblings too had a blast.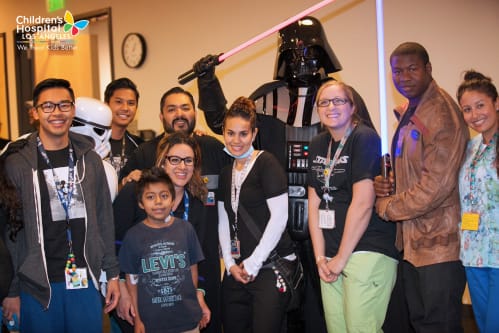 "When you can capture the undivided attention ranging from as young as 3 years old to a person well into their 80's, you know you've got something special," says Carol Kim, manager of Child Life at CHLA. "Star Wars signifies just that, extraordinary. The anticipation and irrepressible excitement radiating from our patients and families representing every generation was profound. In that moment, I think we all forgot we were in the hospital."
Children's Hospital Los Angeles was one of eight children's hospitals that benefitted from the Star Wars: Force for Change program and the last at the end of this very special tour. A special thanks to the Star Wars team for bringing smiles, laughter and life-time memories for our patients.