Halloween Helpers Make Spook-tacular Event for CHLA Patients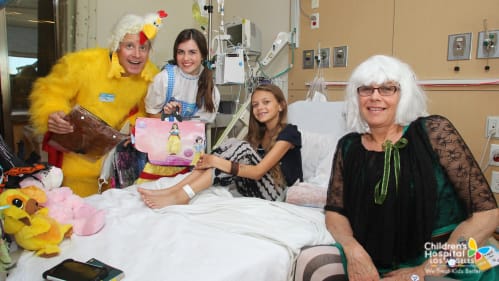 With the help of Capital Group, Sam's Club, Honda, Credit Union for Kids and Bindi Irwin, this year's Halloween fun for our patients was the biggest by far!
Capital Group paved the way for a great day with their generous donation of Halloween costumes, shirts and bibs for inpatients, in addition to their $15,000 donation as the sponsor of this year's Bat-o-Gram cards. CHLA Trustees Ted Samuels and James Terrile, along with their colleague Joe Matt, led the charge. Capital Group had 15 volunteers who spent the morning visiting rooms and playrooms, giving our patients the opportunity to pick out the perfect costume for Halloween and distributing the festive Bat-o-Grams. One grateful mother shared as her eyes started welling up, "We always celebrate the holidays with our family, but this year we are in the hospital. This means so much to me us to have this costume for our daughter. Thank you!"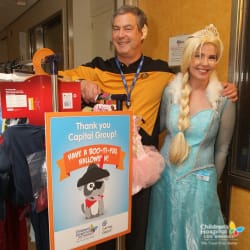 Bindi Irwin, daughter of the late Crocodile Hunter star Steve Irwin and current contestant on Dancing with the Stars, also spent some quality time with our patients by teaching them fun facts about animals and reading jokes from the Bat-o-Gram card submissions! One patient was over-the-top excited for the visit, stating, "I can't believe I just met Bindi!" See the great moment below.
Sam's Club, The Helpful Honda Guys and Credit Union for Kids helped put on our first Jack-o-Lantern Jamboree. The event was open to inpatients and outpatients (at separate times) and included music, games, prizes and a photo booth! Sam's Club also provided our kids with coloring sheets and crayons, and Honda brought fun Halloween buckets to hand out to all attendees.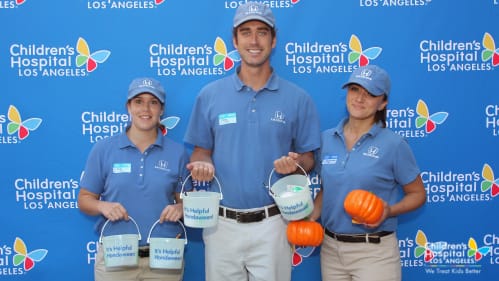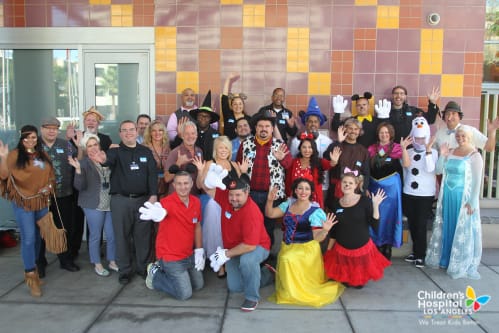 A huge thank you to all the companies and groups that helped put together an awesome Halloween for our patients! And a special thank you to Capital Group and everyone who submitted a Bat-o-Gram! With your help, we received over 25,000 submissions from almost every U.S. state and over 23 countries, which meant that every child, inpatient and outpatient, walked away with plenty of Bat-o-Grams that kept them smiling.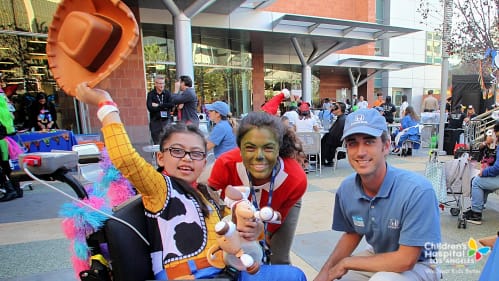 How you can help
Please consider making a donation to help provide our patients the care they deserve and the hope for a healtier future. Visit CHLA.org/GiveLA.