Urological Issues are the Second Most Common Conditions for Newborns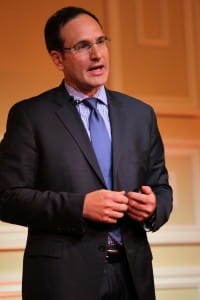 Children's Hospital Los Angeles physician-scientist Roger E. De Filippo, MD, an associate professor of urology and director of Pediatric Urology Stem Cell Research at the Keck School of Medicine of the University of Southern California discusses how science, technology and parental care can lead to improved pediatric urological health.
How common are urological problems among children?
De Filippo: Urological issues are the second most common conditions for newborns after heart defects. Many of these problems are diagnosed during pregnancy, enabling us to intervene quickly after birth. Others are acquired during childhood. Urinary tract infections (UTIs) affect about 3 percent of children in the United States every year, and impact more girls than boys. Most are not serious, but some UTIs can be a sign of an abnormality in the urinary tract or can lead to more acute problems, such as kidney infections.
What kinds of conditions do you typically treat?
DF: At Children's Hospital Los Angeles (CHLA), we provide evaluation and treatment for a full spectrum of congenital and acquired conditions involving the urinary and genital tracts. These include UTIs, especially those involving a fever or failure to thrive, which may need further investigation to rule out a congenital condition, or they might jeopardize development. We also see more complex conditions that may require surgical intervention at CHLA, such as hernias, kidney stones, undescended testes, urinary tract obstructions, and hypospadias, a congenital condition in which the opening of the urethra, which carries urine from the body, is misplaced.
How can families help instill sound urological health in their children?
DF: Parents can encourage their children to develop regular bathroom habits and ensure that they have a healthy diet. Beyond that, keep in mind that occasional accidents don't mean your child has anything significantly wrong with them. Accidents are normal.
What if a child or teen does seem to have more serious voiding issues?
DF: At CHLA, we provide full evaluation and diagnosis, and when appropriate, can refer families to our specialized Voiding Improvement Program at CHLA. There, an experienced team works with children ranging from potty-training age to teenagers on such problems as frequent urination, urinary blockage or day-time and night-time wetting. The team develops the right care plan for each child's unique needs. Among the techniques are biofeedback, computer game-assisted educational sessions, toileting practice and exercises.
You are leading innovative research projects that use stem cells from amniotic fluid to create new kidney tissue. What is your ultimate goal?
DF: We are concerned about kids who are born with or develop conditions that can create significant compromise to their kidney function.  There are a lot of patients with chronic kidney failure waiting on a transplant list. So we're pursuing research into other alternatives that don't rely on transplanted organs. In one study, we are literally "building" kidneys in the lab using stem cells from amniotic fluid. In another, by injecting these regenerative cells into damaged kidneys, we've been able to stave off organ failure. We're confident that we will be able to bring this idea forward to clinical trials within the next five years.
Why is it important for children with urological conditions to see a pediatric specialist?
DF: The urological problems children have are different from typical adult problems. You need a pediatric perspective to get the best possible, most appropriate care. We provide that expertise at the CHLA – Santa Monica Outpatient Care Center, with all the weight of a top-tier children's hospital behind it. The entire experience focuses on the child.
Talk to us about the surgical capabilities of CHLA's Division of Pediatric Urology
DF: If your child needs surgery, he or she is in the best of hands. The Division is an extremely busy program and that experience translates to better outcomes. We are in the top five programs in the country to provide the very latest in minimally invasive and robotic surgery techniques, which offer smaller incisions and faster recovery times. Our multidisciplinary team includes pediatric imaging specialists and pediatric anesthesiologists. All of which means greater peace of mind for parents.