Preventing Drowning Accidents: Christina's Story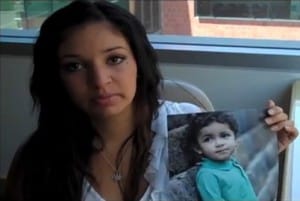 A young mother and California resident, Christina, lost her son, Christopher, in a tragic drowning accident earlier this year.
Since his untimely loss, she has partnered with the Injury Prevention Program at Children's Hospital Los Angeles to help raise awareness about drowning prevention through education of the "ABCs" (Adult Supervision, Barriers and CPR) of drowning prevention.  
Holding up a photo of her son, Christina says in her video testimonial, "If parents can educate themselves on the ABCs of drowning prevention, then they don't have to put themselves in the same position that I have to be in today."
Jeffrey Upperman, MD, director of the Trauma Program at Children's Hospital Los Angeles, also shares valuable facts and tips about drowning and water safety in this Water Safety YouTube playlist.
Touching upon important subjects like drowning statistics, parental supervision guidelines at pool parties, water safety education resources and first response activities, Dr. Upperman hopes parents see how a little education can go a long way when it comes to drowning prevention. Find more safety tips at CHLA.org/safety.