8 Tips for Going Back to School Online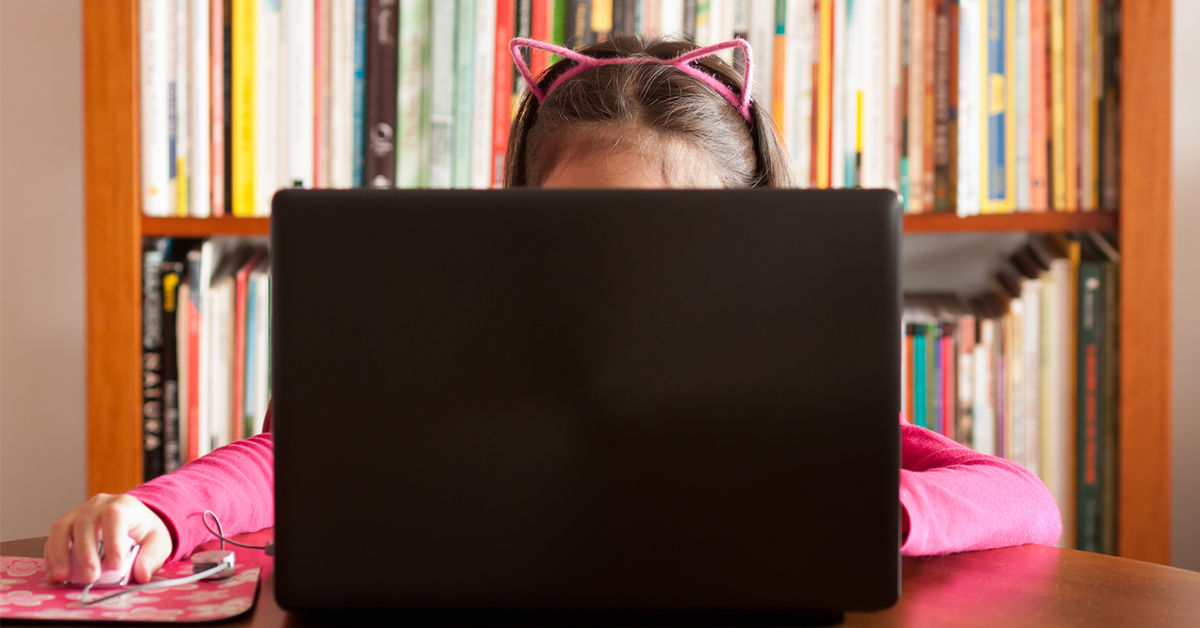 How to support your kids—and yourself—as school starts online.
By Katie Sweeney
With the COVID-19 crisis continuing, most children in California will be going back to school online this fall. For many families, that's a big challenge.
So how can you talk to your child about online school? And how can you make it the best possible experience both for your child—and for yourself? Karen Rogers, PhD, a Clinical Psychologist at Children's Hospital Los Angeles, offers some advice for parents.
1. Take care of yourself.
Before talking to your child, take time to understand your own emotions. How do you feel about online school? What worked in the spring—and what didn't? And how can you take care of yourself?
"This is a very hard situation for a lot of parents," Dr. Rogers notes. "If you're going to a workplace, that's a challenge. If you're working from home, that's a challenge. If you've lost a job, that's a challenge. It's important to take care of your own feelings first, so you're better able to support your child."
2. Listen to your child.
Ask your child to share his or her feelings. Some good conversation-starters: "How are you feeling about going back to school online?" and "What did you like about online school last year? What didn't you like? What was hard about it? What might make it better?"
Children and teens will likely have a range of feelings, including disappointment, frustration, happiness and relief—and maybe all those emotions mixed together.
Let them know their feelings are normal and acknowledge any loss they're experiencing. Check in with them over time, too. "The goal is to open a dialogue," she says. "It's not a one-and-done."
3. Don't go it alone.
Communicate regularly with your child's teacher or school. This is especially important for young children. It can also be helpful to connect with other parents in your child's class, so you can share ideas and vent your frustrations.
If your child is struggling with depression or anxiety—or is having a hard time making or keeping social connections—talk to your child's doctor. Mental health therapy can be helpful even for young children, and it's often available via telehealth.
"One in four children in California needed mental health care before the pandemic, and 85% of kids who needed that care did not receive it," says Dr. Rogers. "That means in a classroom of 30 kids, 7 need mental health treatment, and one will get it. With the stress of the pandemic and remote or hybrid learning, it's important for parents to know that they can access help by starting with their pediatrician, and that virtual visits may be an option."
4. Seek out social opportunities.
Social-emotional learning is an essential part of child development, and is just as important as academic learning, Dr. Rogers explains. But right now, finding ways that your child can safely socialize with peers can be challenging.
Zoom chats or video play dates remain the safest option. Teens can usually manage their own online socialization (with some monitoring), but younger children will need more parental involvement.
Some families have also formed "pandemic pods" with another household with similarly aged children, but relaxed physical distancing is a risk. Children's Hospital Los Angeles recommends that in-person meetings with those outside your household continue to be limited, and when needed that these gatherings be outdoors, with children and adults wearing masks and staying 6 feet apart.
5. Follow a schedule.
"Children thrive on predictability," Dr. Rogers says. "It can be hard to start a schedule because you can get a lot of pushback from kids. But once you get them used to it, it reduces a lot of stress—for both children and adults."
That said, don't schedule every hour of the day. Instead, sketch out rough blocks of time. For example: In the morning, we eat breakfast, do a short playtime and then sign on to school. In the afternoon, we go outside and then do homework.
6. Balance screen time.
Be sure to set aside time away from the computer, phones and TV. If possible, a daily walk or bike ride—or just playing outside—provides an excellent break.
Other ideas include dancing; building blanket forts in the living room; painting, coloring or crafts; and helping to cook or bake something in the kitchen.
7. Be consistent.
Choose a regular space where your child will attend online school and do homework—and where you can minimize distractions. This might be in his or her room, at the kitchen table, or at a desk in the living room.
"People learn better and remember information better if they're in a consistent environment when they're doing that learning," she says. "It doesn't have to be a dedicated space. But it's best if it's the same space."
8. Accept that this won't be perfect.
Going back to school online presents huge challenges for many families. Don't be hard on yourself.
"I encourage parents and caregivers to have a mindset of trying to make this work—but to also understand that this is going to be imperfect," Dr. Rogers says. "Don't compare yourself to other families. Just do the best that you can."