Mason Proves He is a Great Therapy Dog for Patients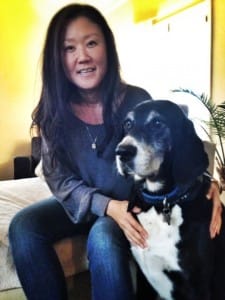 Therapy dog Mason and his owner, Julie Lee, started volunteering at CHLA in 2008 and have logged many memorable visits in the years since. We asked her to share how her journey with Mason led her to volunteering here.
How did you get started in therapy dog work?
I always knew Mason was special. He loved people, especially children. When I started looking into the idea of volunteering as a therapy dog team, I was particularly interested in working with kids. Of course, we knew the standards were exceptionally high and that there was a chance we'd find out we weren't a great fit or weren't up to par. I wanted to give it our best shot anyway. We went into our first evaluation knowing we might not pass, but would hopefully learn something that would help us prepare for our next shot. Happily, Mason showed his gentle temperament and his well-practiced obedience skills, and we were ready to begin.
Mason turned out to be great in the hospital setting, so we've been volunteering regularly ever since.
Tell us a little about Mason and how he came to be your dog. When did you know he would make a good therapy dog?
Mason is from the California desert area, near Palm Desert. He was rescued by friends who lived there. They found him at a construction site, malnourished and neglected. He had fleas and mange. My friends nursed him back to health. When I visited them, Mason was only a year in age, but I was struck by how he seemed to have the temperament of an old soul.
I had always liked big dogs, and Mason was just so calm for a one-year-old puppy, that I knew he was unusual in a very good way. After a while, around Mason's second birthday, my friends realized that having a newborn baby, another dog and Mason was too challenging. They asked if I wanted to take Mason. Of course, I jumped at the chance because I had already fallen in love with him!
So, I dove into dog-ownership by learning about training Mason. I read books, asked friends, reviewed the Dog Whisperer videos. Mason was smart and eager to learn. We worked on basic obedience skills until Mason had them all down. I realized that his sweet, old-soul nature and his nice manners might allow us to be an effective therapy dog team, so I pursued the idea.
Can you share a favorite visit story or memorable experience?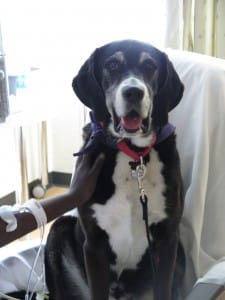 When we do visits, we find an eager audience in children – and parents and visitors and staff – of all ages. But I've found that sometimes the older teens play it a little cooler when we first knock on the door. It's not that they aren't interested in a visit, necessarily, but they can be harder to read in those first moments. They can be less effusive than younger patients, and they're often a little warier about who is stopping by. That was the case with a girl in this particular visit.
She was unsure about us when Mason and I first poked our heads into the room to ask if she wanted a visit. But since we weren't there to pull, poke, feed, inject or question her, she decided to give us the benefit of the doubt and invited us in. I asked whether she would like Mason to sit on a chair by her bedside, or join her on the bed. She decided the bed would be okay and Mason settled in beside her.
As we visited, the nurse opened the door to ask the patient if she needed her meds and the patient replied, "Not now." She was enjoying her visit with Mason. The nurse looked at the two of them, cuddled together on the bed, and said, "But I thought you didn't like dogs?" The patient didn't even look up from contentedly spooning Mason as she answered, "I like this one."
What's been the most rewarding part of volunteering with Mason?
I love so many things about volunteering with Mason here at CHLA! It's wonderful to share an experience with Mason, both because it gives us quality time together doing something we both enjoy, but also because the more we do this work the more bonded I feel to him. I think the feeling's mutual!
I love meeting the patients, families and staff. I love that we can offer anyone we meet a pleasant distraction. I love hearing that we've brought relief, relaxation, comfort and entertainment to the kids we visit. I love seeing them react to the unconditional affection Mason offers as soon as we enter the room. It's great to see the mood of a kid who's had a tough or dull day improve dramatically when we come by to visit, and to hear from other kids that they've turned into dog lovers because of Mason and the other therapy dogs they have met in the hospital.