When Can My Kids Stop Masking?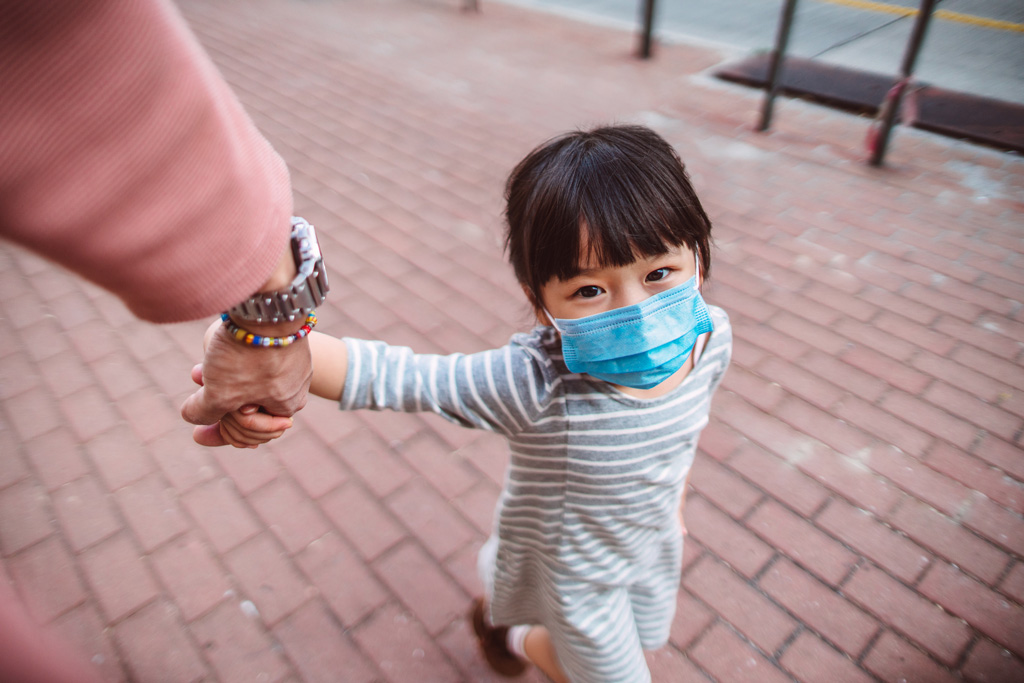 5 Expert Tips on How to Protect Unvaccinated Children

By Stephanie Cajigal
With COVID-19 cases in the U.S. going down and vaccination rates going up, it finally feels safe to venture into civilization again. But parents with children under age 12 may feel left out. How do we protect the kids who do not yet have access to a vaccine while the rest of the world slowly gets back to normal?
To help us sort things out, we reached out to Michael Smit, MD, MSPH, Hospital Epidemiologist and Medical Director of Infection Prevention and Control at Children's Hospital Los Angeles, and Marisa Glucoft, MPH, CIC, Director of Accreditation and Licensing, Infection Prevention and Emergency Management at CHLA. Here are their tips for helping young kids avoid the virus that causes COVID-19.
1) Keep masks handy.
The Centers for Disease Control and Prevention (CDC) announced in May that fully vaccinated people can participate in most indoor and outdoor activities without wearing a mask. In other words, people who are two weeks or more out from receiving their second Pfizer or Moderna shots or their single Johnson & Johnson shot can forgo wearing a mask in many situations. State and local governments and organizations such as school districts and businesses will implement their own rules based on perceived risk levels.
For now, fully vaccinated Californians will continue to be required to wear masks indoors. They can ditch masks outdoors except for when they are not able to physically distance from others. The state will align with CDC guidelines and allow fully vaccinated people to go without a mask in most settings starting June 15—when California plans to fully reopen its economy. People who are not yet vaccinated are still required to wear a mask outdoors, but only when they cannot physically distance themselves from people outside their household.
The take-home point for parents is to carry masks for the entire family. The safest practice for any unvaccinated person, including children, is to wear masks when they are around other people who may not be vaccinated.
"There may be situations where kids are playing in the park outside or going to the beach where they won't need to wear a mask, but then you may encounter situations where you have to go into a store or business, so just to be on safe side, continue to carry masks with you," says Dr. Smit.
(Note: Children's Hospital Los Angeles requires masks to be worn by staff and visitors at all times, regardless of vaccination status. Health care offices or other businesses and organizations may choose to do the same going forward, so check their rules before you walk through the door.)
2) Do your research before signing up for summer activities.
Kids and parents are looking forward to summer activities they may have been deprived of during the pandemic. Activities such as day and overnight camps, sports, or recreational swimming may involve a confusing array of cans and cannots. The best way to navigate the hodgepodge of rules is to cross-check what the organization running the activity is doing with what the CDC is recommending and what your local jurisdiction requires.
For the most part, kids should wear a mask and be kept 3 feet apart, Dr. Smit says. For more specifics, check out the following websites:
3) Take the fun outside.
One way to make activities safer while your children are not vaccinated is to do them outside. Evidence collected from studies and contact tracing from around the world shows transmission of coronavirus outside is extremely rare, according to Glucoft.
"When experts looked at how people got COVID-19, most often it was indoors," she says. "If it did occur outdoors, it was related to densely populated events like sports. It doesn't mean being outdoors carries no risk, but it is a much lower risk than being in an indoor space."
Hosting a barbecue in your backyard, for example, might be minimally risky, especially if it is with a small group of people and most adults are vaccinated. If you move indoors as it gets cold at night the situation might warrant more caution, according to Glucoft.
"Think about overall risk factors when planning activities: Are you able to maintain some distance from others? Are you going to be in a large crowd of people, packed in like sardines, or will you be spaced apart?" she says.
Asking unvaccinated kids and adults who will be in close contact with your children to wear masks also lowers risk. Have your kids wear masks if your family is at a gathering where you are in close contact with guests and unsure of everyone's vaccination status, Dr. Smit advises.
4) Follow travel restrictions.
This new phase of the pandemic has many families eager to travel for fun or to reunite with other family and friends. Before you book a trip, look up COVID-19 guidelines for the place you are traveling to and for your chosen mode of travel. COVID-19 restrictions for people who are not vaccinated will differ from city to city even within the U.S., Dr. Smit points out. The same is true of airlines, which don't have universal procedures or requirements.
Travel can also be tricky for families right now because the CDC is recommending that unvaccinated people:
Get tested for COVID-19 one to three days before they travel
Get tested again three to five days after they travel
Self-quarantine for seven days after travel (or 10 days if they do not get tested after traveling)
If children who are not yet vaccinated are going to be around a family member who has a weakened immune system, you might want to practice more caution. Have your child wear a mask around that person, for example.
"If you have concern about a family gathering or getting together with a particular family member, such as a grandparent who is at high risk, talk to your pediatrician for recommendations," Dr. Smit says.
For more information, check out the CDC's domestic and international travel recommendations.
5) Be ready to talk to kids about getting vaccinated.
The best way to protect young children from COVID-19 is to take them to get vaccinated once they are eligible. It is possible this might happen by fall, Dr. Smit says. It is OK to explain to kids that the shot may hurt and that they might feel sick for a few days after they get a dose, he says. Emphasizing all the things they'll be able to do after they're vaccinated may put them at ease.
"Let them know that if they want to go back to playing with friends, playing sports and hanging out," Dr. Smit says, "this is the quickest way to get there."
The COVID-19 vaccine is now available for kids 12 and up. Get the facts here.
---
Related Content