Two Girls with One Mission. Bring Toys and Happiness to Sick Kids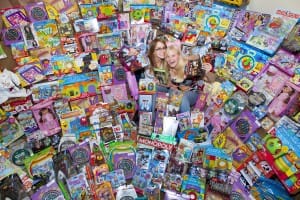 Searching for toys in mom's closet and using chore money to buy more toys was on Erin Timperley's 12-year-old agenda. In 2001, she and her cousins decided to donate toys to kids who were less fortunate. Little did Erin and her cousins know that their 2001 toy drive effort would blossom into Give to Others, an organization currently run by Erin, her cousin Alie Nelson, both in their early 20s, and their parents. Give to Others is simply run on monetary donations, toy donations, grandma's love and Erin and Alie's passion for putting smiles on the faces of sick kids, during the holidays. Since its start in 2001, Give to Others has donated approximately 4,500 toys! In 2007, over 800 toys were donated. To Erin, that particular year was the most memorable. That was also the year Alie won ABC7's Cool Kid Award for her Give to Others efforts. Erin won the year before.
Give to Others and Children's Hospital Los Angeles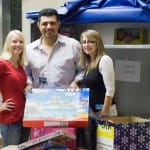 In 2003, Give to Others made its way to 
Children's Hospital Los Angeles
. This year will be Give to Others' ninth year bringing toys and smiles to young patients at the hospital. The girls work closely with hospital staff to see which age groups need the most toys and peg their coworkers, who have kids, for ideas on what toys are cool that season. Their 
Facebook page
 has been a great avenue in seeking support and ideas from the online community. Erin and Alie also do quite a bit of research online to see what's resonating with kids. Erin explains, "The most challenging part is trying to figure out which toys are IN." 
If you know of any toys that are hot gift items this year, let us know in the comments below!
How You Can Help
Give to Others is a great example of what you can do (without having to start a nonprofit) to make an impact. In the spirit of giving and making kids' holidays bright, there are a variety of ways you can help the kids and families at Children's Hospital Los Angeles.
Watch and hear about Give to Others, shopping for toys and sharing their enthusiasm for bringing happiness.
*Dec. 18, 2013 is the deadline for holiday toy donations.