From Obese to Optimistic: How CHLA Volunteer Inspires Kids to Live Healthy
Kyle Wong, age 47, is a health and wellness geek. He can talk for hours about nutritious foods and spends his weekends ziplining, hiking, boogie-boarding and "having as much fun as possible".
Rewind to three years and 114 pounds ago, when Kyle was struggling to keep up with his own kids—let alone the dozen or so enrolled in the Kids N Fitness program, where he volunteers. Kyle had spent much of his adult life knowing he was overweight, but not knowing how to shed the excess pounds. He tried new exercise regimens and cutting calories with varying degrees of failure. He was resigned. Defeated.
But in 2009, a cascade of events changed Kyle's outlook. First, his health insurance changed. In order to be approved under his new plan, he needed a physical and stepped on the scale for the first time in years.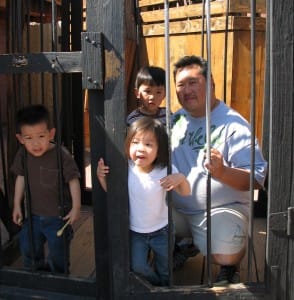 Kyle's "before" shot, taken in 2009
"I don't know what I expected, but I was in disbelief when 278 pounds rang up," says Kyle. "It was a shot to the heart when the new insurance plan wouldn't take me because I was too heavy."
Because of his weight, Kyle's physician also instructed him to take a sleep apnea test. Kyle went to the sleep center, attempted to doze off with wires and sensors stuck to his body, and returned to the doctor's office to review his results.
"He was very grave when I showed up and wanted to get me fitted for a CPAP machine immediately. But I had to know why he felt so strongly." The doctor responded, "Let's say that a score from 1-15 would be mild sleep apnea. 16-30 would mean that you definitely have sleep apnea. Your score was 112."
That means that within one hour, Kyle stopped breathing 112 times. Strike two. Shortly after his shocking sleep apnea diagnosis, Kyle's father passed away. He was obese, had heart disease and experienced a heart attack at age 55. At the time of his passing, Kyle's father's heart was only running at 20% capacity.
"In my last words to him, I promised that I would fix my health. For myself and my children—his grandchildren."
Gaining Health
Contrary to what we often assume, there wasn't a magical, immediate moment of clarity after these three events. Kyle felt that he had failed so many times before that he needed to first build up his confidence.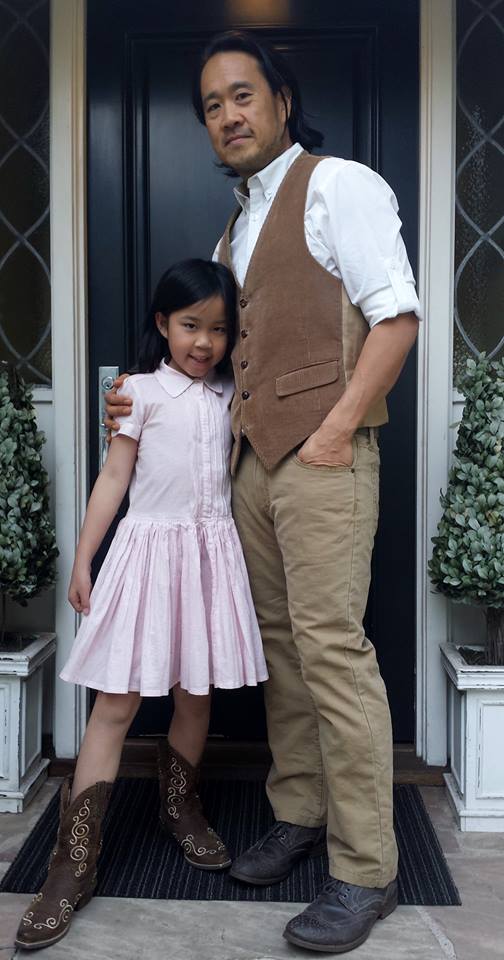 Kyle and his daughter before their first Western-themed, father-daughter dance in 2014.
From blogs to articles to books, Kyle delved into the research and created his own way of thinking. He found that too much of the diet and exercise advice focused on the negatives like cutting calories and reducing intake of your favorite foods. While this may all be true, Kyle's philosophy turns this traditional focus of weight loss on its head. Instead of losing pounds, he concentrated on gaining health.
By focusing on optimal health and wellness, Kyle believed that all of his weight-related issues would resolve themselves. And he was right. Instead of ruminating on what he had to take away, he looked forward to the healthy foods he could add to his diet. With this mentality, Kyle lost over 100 pounds 'by accident.'
Once he knew how to get his own life back on a healthy track, Kyle was inspired to share his success with others—starting with his own kids.
"As a parent," Kyle explains, "your job is to set your kids up for success. You teach them and guide them for as long as you can and offer them the foundation on which they can build their own healthy and successful lives."
With this spirit, Kyle brought his oldest son—who struggles with his weight—on an adventure to the grocery store. You're probably thinking: "the grocery store, really?!" but Kyle emphasizes the importance of having kids pick out the foods that they want to eat. In this case, Kyle and his son Nash were on a mission to find new, healthy snacks to pack for school lunches.
"Most people don't know that grocery stores like Sprouts will let you return any item if you don't like it. Nash and I filled up our baskets with goodies, went home to taste-test each one, and returned the snacks he didn't like. Bite marks and all."
Giving Back
Now a fully-fledged "health and wellness geek," Kyle searched for another outlet to share his enthusiasm. He turned to Google and stumbled on the Kids N Fitness Program at Children's Hospital Los Angeles (CHLA).
Kids N Fitness is a six-week program that educates children and their families about healthy eating habits and exercise. Each class is divided into two, 45 minute segments. During the first portion, Emily Millen, MPH, and Grace Anaya teach students and their parents about nutrition. After the lesson, the parents stay and exchange some "tips and tricks," while the kids run to a nearby conference room to burn off their pent-up energy through structured, fun physical activity. That's where you'll find Kyle, running, lunging and jumping with the rest of them.

Kyle at a recent Kids N Fitness class
"Theodore Roosevelt once said, 'People won't care how much you know until they know how much you care,'" explains Kyle. "That's where I come in. I make it a goal to learn every kid's name after the first class and to cheer them on throughout the exercises. I have kids and speak Minecraft; I think that earns me their respect and trust."
For young students who may be picked on at school or nervous to try a new sport in front of their more athletic peers, Kyle's actions help create a safe, comfortable environment where no one is judged. He also makes a point to encourage each child to make their own decisions. "These kids have enough rules. Rules at school, rules at home… why should they have rules about what they eat and how they have fun?"
This same mentality is echoed at Kids N Fitness. You won't hear anyone say "stop eating chocolate" or "only drink milk or water for every meal". Instead, instructors make suggestions as to how to make small, livable improvements towards a healthy life. As Kyle says, "we provide 'tools, not rules'."
Making Healthy Changes
These tools are becoming increasing important in the fight against childhood obesity. Currently, one in three kids in the U.S. is overweight or obese, putting them at risk for health problems that were once only seen in adults, like type 2 diabetes, high blood pressure and heart disease.
In recognition of September as National Childhood Obesity Awareness Month, Kyle and the entire Kids N Fitness staff encourage you to make the following healthy changes together:
• Get active outside: walk around the neighborhood, go on a bike ride or play basketball at the park
• Limit screen time: keep the time spent on the computer, watching TV or playing videogames to less than 2 hours a day
• Make healthy meals: buy and serve more vegetables, fruits and whole-grain foods
• Stay hydrated: keep a bottle of water with you throughout the day to help you drink more H20 and less sugar-sweetened beverages
• Sleep: Get at least 8-9 hours of sleep each night to allow enough time for your body to rest and recharge
• Make it fun: living a healthy lifestyle is about finding what works best for you. Be curious! Be open to trying a variety of healthy foods, exercises and forms of stress relief. No one size fits all!
Kids N Fitness engages the entire family, providing children and parents with specific strategies to deal with barriers they encounter in leading a healthy lifestyle, empowering them to take small steps to make big changes over time. The program is free and open to families with children ages 3-16 who are struggling with their weight. For more information on what CHLA is doing to prevent and treat childhood obesity, visit our Diabetes and Obesity Program.