Faith-Based Summer Camp Promotes "Healthy Environment, Active Living"
At exactly 4:30 pm, counselors blow their whistles and a storm of breathless kids—basketballs and hula hoops in hand— rush inside and take their seats. It's graduation day at Camp H.E.A.L.
"Today, your kids are the teachers," says Minister Dawnesha Beaver to the proud parents in the audience. "Through Camp H.E.A.L, we were given the chance to be preventative and change the lifestyle of our congregation, starting with our youth. They're very excited to show you what they've learned."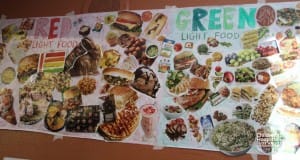 Healthy Environment, Active Living
An acronym for "Healthy Environment, Active Living," Camp H.E.A.L is a faith-based community initiative of the Diabetes and Obesity Program of Children's Hospital Los Angeles (CHLA) and New Mount Calvary Missionary Baptist Church. In two, two-week sessions, 36 Camp H.E.A.L participants gathered for lessons on portion sizes, how to calculate if a food is high or low in fat, and the difference between "red light" foods that you should eat sparingly and "green light" foods that you can eat all the time. Campers also took grocery store tours, planted and took home herbs and learned how to make nutritious snacks (like the ones pictured below).
And since a true camp experience isn't complete without field trips, campers also enjoyed some "R & R" at the beach, attended a Dodger game, explored the Los Angeles County Museum of Art and participated in local youth activities at the neighboring library and park. For many of the campers, these trips were their first glimpse of L.A. cultural landmarks. A member of the congregation even came to teach kids stress relief and yoga—which resulted in an unexpected, yet well-earned, naptime.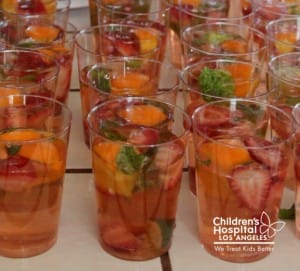 "Camp H.E.A.L. is unique in that it incorporates the evidence-based curriculum from our Kids N Fitness Program, but the camp environment allowed us to do so much more.  We were able to infuse all of our physical activity, arts and crafts, and even bible lessons with messages of health and wellness," says Megan Lipton-Inga, MIA, CCRP, director of program development for the Diabetes and Obesity program at CHLA and director of Kids N Fitness. "We want to improve the overall health of at-risk communities in a way that is sustainable and fun!"
This light-hearted and educational atmosphere was reflected at the graduation ceremony, which kicked off with the camper's performance of an originally-composed song:
"They teach us every day, to eat in a healthy way, at Camp H.E.A.L, at Camp H.E.A.L…"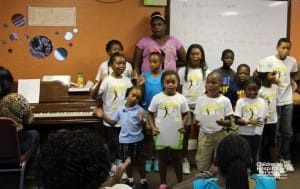 After a worthy round of applause, students showed their friends and family how to read a nutrition label and build a balanced MyPlate (the newest iteration of the food pyramid). They also acted out a conversation between customers and waiters at a restaurant in order to educate the audience on how to make healthy food choices when dining out.
Inspiring a Healthy Lifestyle
Finally, the moment arrived when Camp H.E.A.L.'s first class would receive their diplomas. Instead of flowers, long-leafed carrots and sports equipment were given to each graduate, ensuring they could continue their camp lessons of healthy and active living throughout the year.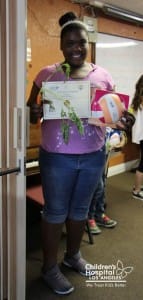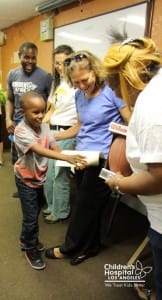 As a holistic program, Camp H.E.A.L. is dedicated to developing physical, emotional and spiritual health in a way that resonates with the young campers.
"I had parents come and tell me that their kids were smacking cookies out of their hands and commenting on how much sugar was in certain foods at the grocery store," remarked Minister Beaver.
"But that's how we know that this program is working," adds Lipton-Inga. "The kids are excited to learn and to apply what they've learned. It's all about making small changes that inspire a healthy lifestyle."
Thank you to the following members of the CHLA Project HEAL team for your work and dedication:
Principal Investigators: Ellen Iverson and Valerie Ruelas
Director, Program Development: Megan Lipton
Project HEAL Coordinators: Jonathan Reid and Dawnesha Beaver
Research Associate: Ali Johnson
Church Care Coordinator: Sherell Eurey