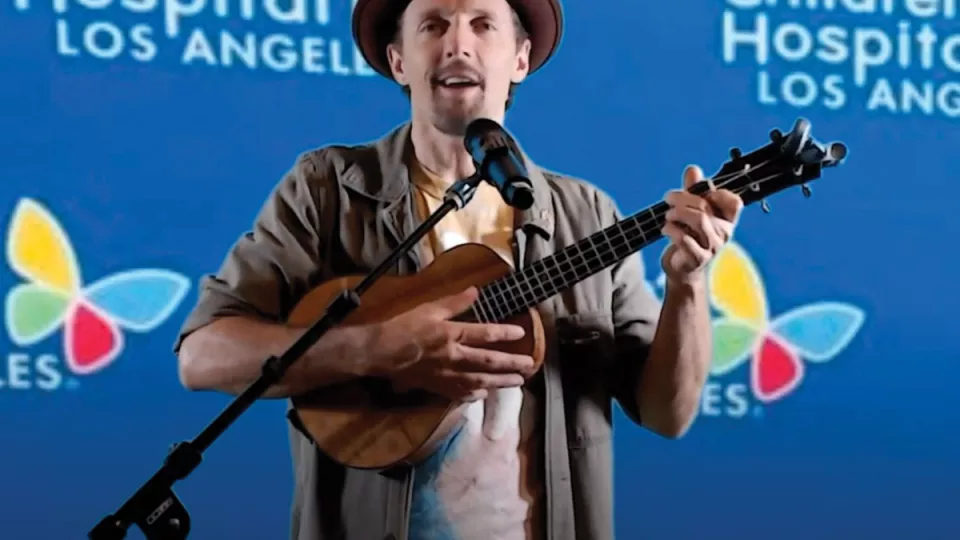 CHLA Happenings
Throughout the year, philanthropists, community leaders, corporate sponsors, and grateful friends and families come together to benefit Children's Hospital Los Angeles. The enthusiasm and generosity of our supporters inspire everything we do and ensure the hospital's ability to create hope and build healthier futures. It is an honor to showcase some of the recent celebrations and fundraising events below.
---
Winter Wonderland
On Dec. 17, 2019, the Jane Vruwink Palmer Healing and Play Garden at CHLA was transformed into a winter wonderland filled with festive activities and gifts. The celebration—hosted by Major League Baseball star Justin Turner and his wife, Kourtney, and designed by celebrity event planner Mindy Weiss—welcomed more than 250 patients and their families, who enjoyed a photo booth, hot chocolate, face painting and more.
---
'Frozen 2' Visit
Actress Kristen Bell visited CHLA on Dec. 10, 2019, when she and several Disney animators spent time with patients and treated them to a screening of "Frozen 2." The event was part of The Walt Disney Company's commitment to deliver comfort and inspiration to children facing serious illness.
---
Junior Ambassadors Celebration Day
The Junior Ambassadors are young philanthropists passionate about doing good deeds and fundraising for CHLA. To recognize these inspirational kids and teens, Junior Ambassadors Celebration Day was held on Nov. 16, 2019, at Universal Studios Hollywood, where the young Ambassadors enjoyed a delicious brunch and spent the day with their families at the theme park. Attendees raised a minimum of $500, with many raising $1,000 or more in support of CHLA. The funds marked another successful fundraising effort, in addition to the group's Action Day the month before, which raised $100,000 thanks to a matching gift from The Simms Family Foundation.
---
Discover CHLA
The latest Discover CHLA speaker series, which highlights clinical care and research advances in pediatric medicine, focused on the Heart Institute and the Center for Endocrinology, Diabetes and Metabolism. Hosted by CHLA President and CEO Paul S. Viviano and moderated by Foundation Trustee Mary Hart, the Nov. 19, 2019, event featured Heart Institute co-Directors Vaughn A. Starnes, MD, and Paul F. Kantor, MBBCh, MSc, FRCPC, as well as the hospital's Pediatrician-in-Chief and Pasadena Guild Chair, Robert E. Shaddy, MD. At the Feb. 26, 2020, presentation, Jennifer Raymond, MD, MCR, Chief of the Center for Endocrinology, Diabetes and Metabolism, was joined by boxing legend Sugar Ray Leonard, a member of the Foundation Board of Trustees, to discuss diabetes care for children and adolescents.
---
The Saban Research Institute Dinner
On Feb. 26, 2020, CHLA Board members, leadership and philanthropists gathered to celebrate the groundbreaking research being conducted at The Saban Research Institute of Children's Hospital Los Angeles. The intimate dinner was hosted at the home of longtime CHLA supporters Cheryl and Haim Saban.
---
Associates & Affiliates
For more than a century, the Associates and Affiliates of Children's Hospital Los Angeles have donated millions to support numerous areas of the institution. Today, nearly three dozen all-volunteer groups across Southern California host events throughout the year to raise funds and awareness about the hospital's mission.
---
Los Angeles Marathon
This year for the first time, Children's Hospital Los Angeles was an official charity partner for the Los Angeles Marathon. On March 8, 2020, a total of 65 runners from Team CHLA participated in the annual event and helped raise more than $259,000 to support the hospital.
---
Natalie Portman reads CHLA's COVID-19 book
Academy Award-winning actress Natalie Portman recorded a reading of "Careless Corny: A Cautionary Tale," a book by CHLA experts that explains the coronavirus in kid-friendly language and pictures.
Download your free digital copy at CHLA.org/CarelessCornyBook