The LA Kings Visit for a Day of Giving and Fun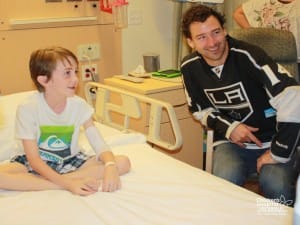 On Oct 22, team members from the Los Angeles Kings made their annual visit to Children's Hospital Los Angeles to kick off a day of giving and fun.
The players began their visit by going to individual patient rooms and interacting with patients and family members, while giving away signed, toy hockey sticks. After visiting the patients, the players made their way to the hospital lobby, where they signed more autographs, took pictures and had the opportunity to interact with our outpatient population.
Afterwards, the players and children had the chance to show off their arts and crafts skills by painting and designing TOMS shoes and eyewear cases as a "Style Your TOMS" activity. The TOMS Community Team was gracious enough to donate the eyewear cases, as a part of Holidays from the Heart, a program that serves families of Children's Hospital Los Angeles who are financially unable to provide for themselves and their children during the holiday season.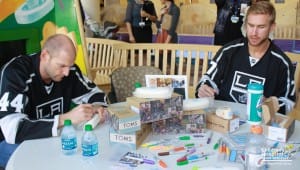 This visit make the day more enjoyable for the children and family members, it was also an exciting opportunity for the various nurses who adored seeing their patients smile from ear to ear. We are very thankful for the Los Angeles Kings for making another trip to Children's Hospital Los Angeles and taking the time to visit our patients and families.
Go Kings!