Drew Barrymore Pampers CHLA Moms and Patients
Recently, the fourth floor Family Lounge was buzzing with overjoyed moms and Children's Hospital Los Angeles patients. Drew Barrymore, brought along her cosmetic line, FLOWER Beauty, and a team of celebrity make-up and hair stylists to pamper all the mothers who were currently at CHLA.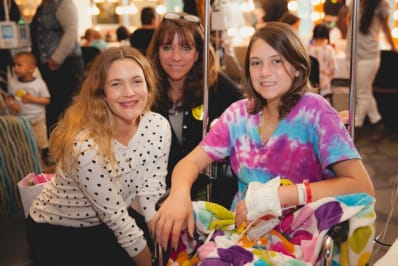 As each patient and their mother walked in, their eyes lit up as bright as the Hollywood-style vanities that were lined up in the room. The vanities were filled with plenty of Barrymore's products and each staffed by a make-up artist, many of who have worked with celebrities and during fashion shows. There was also nail polish stations filled with a variety of different colored nail polishes to choose from. Many of our young patients absolutely loved playing around with the blushes and lipsticks, and getting their hair braided in fun styles.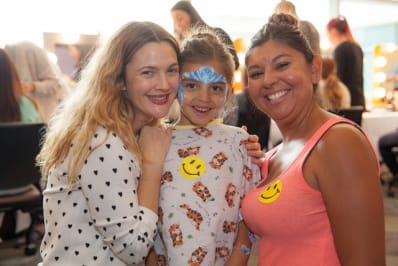 For the kids who weren't interested in make-up, they headed over to the face-painting table where they were able to transform themselves into Mickey Mouse, channel Elsa from Disney's Frozen and, our favorite, a butterfly! Moms and kids also got goodie bags filled with cosmetic products from FLOWER Beauty and other fun products. Thanks to Drew and her team for an amazing day of fun and beauty!