Dodgers Matt Kemp Makes Patient's Dreams Come True
It's not every day you see your idol sitting in the corner of your room, but for Carlos Contreras this dream became reality when Matt Kemp, outfielder for the Los Angeles Dodgers, made a visit to Children's Hospital Los Angeles.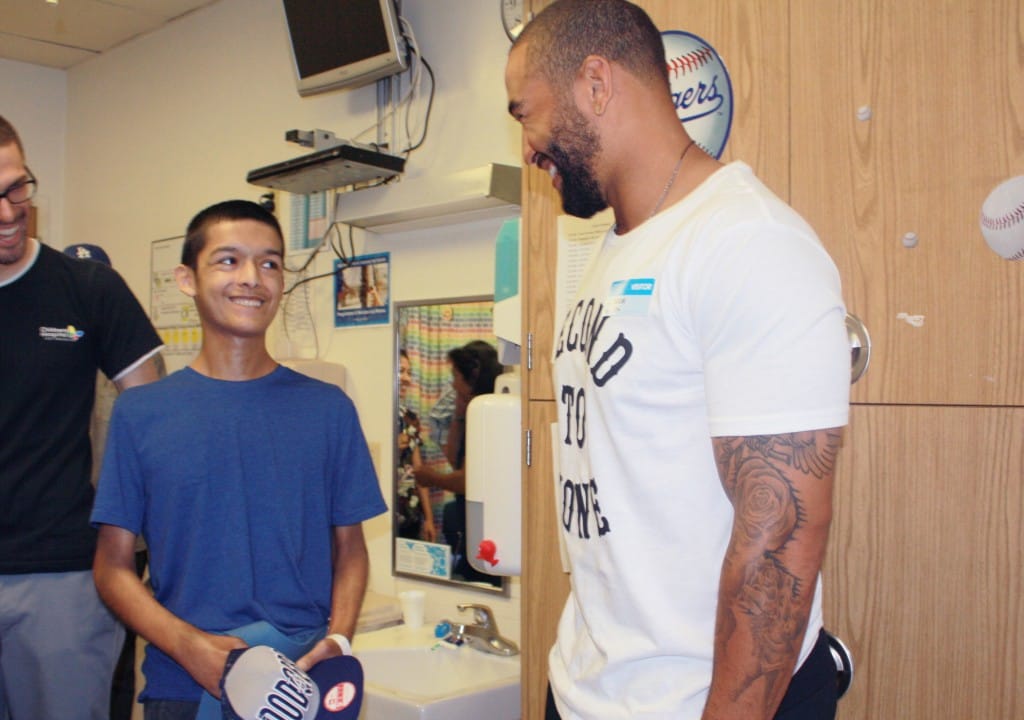 Carlos had spent five weeks in our Rehabilitation Unit when our child life specialists encouraged him to write a handwritten letter to, what many in the baseball world call, the Great Bison. "I've always wanted to write to Matt Kemp, because I knew he was super supportive of his fans," says Carlos. "I tried to not get my hopes up, because I assumed he had a lot of requests. Just didn't think he would ever come."
In the letter, the 16 year old explained that he is currently fighting juvenile scleroderma, a chronic disease that involves the tightening of the skin and connective tissues. Diagnosed in 2012, many of his doctors explained that his life would never be the same. "I just kept hearing the words 'serious' and 'rheumatology disease' over and over," said Carlos. "One even told me I would never walk again."
During this time, Kemp also experienced his own setbacks in his career and this resonated with Carlos. Carlos closely watched Kemp play as both wondered what their futures would look like. "I was a part of a few club basketball tournaments," said Carlos. "I thought I was really good and would head to the NBA (National Basketball Association) one day, and then this happened."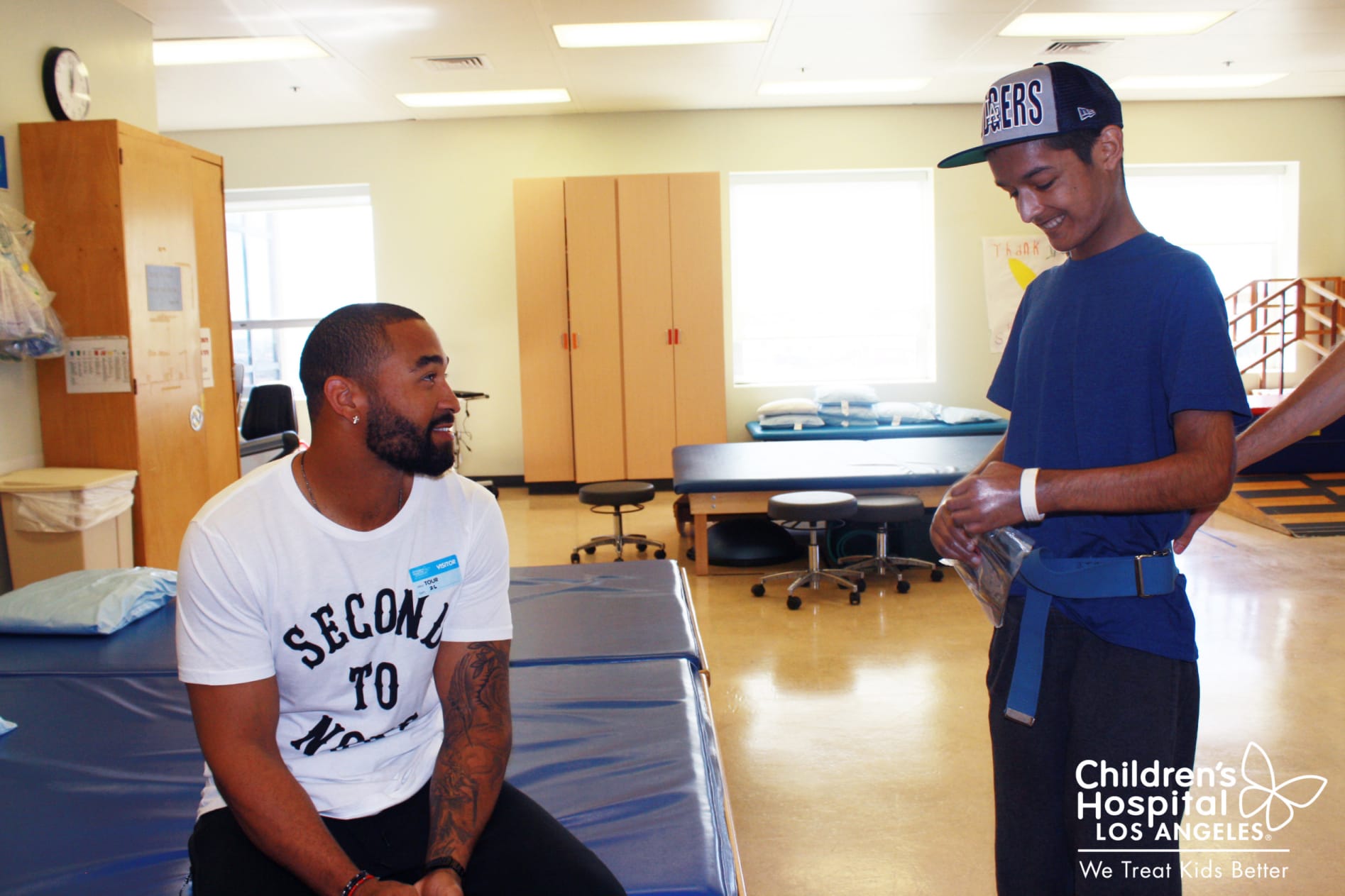 Before coming to CHLA, Carlos was recommended to stay in bed to ease the pain of his disease, which bored and frustrated him. He then began to work with our rehabilitative team and Kevan Craig, DO, chief of the Division of Rehabilitative Medicine at CHLA, to try to reach one of his main goals: to walk. "We tried to encourage him and when he did more physical therapy, he saw what he could do and was inspired to work harder," said Craig. "After Kemp came to visit him, his outlook completely changed. He had a much brighter idea of what he wanted to achieve."
The optimism from Carlos that day was electric and many could see his inspiration heighten. "When I saw him, I felt like I forgot how to breathe for a second and my legs got shaky," said Carlos. But that soon changed when Carlos began to walk (with assistance) around with Kemp—giving the athlete a tour of where he worked on his therapy, introduced him to other patients and staff in the center and even handed a baseball autographed by Kemp to his favorite therapist.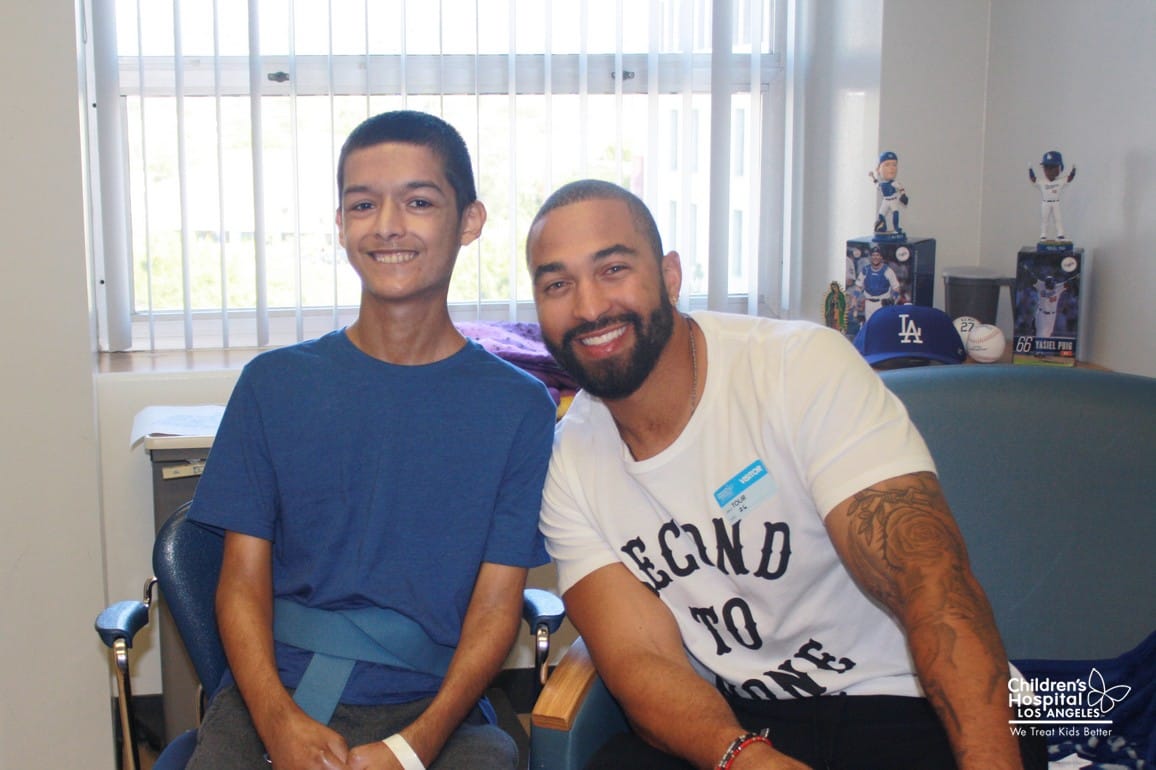 In the short time Carlos was at Children's Hospital Los Angeles, sparks of motivation from the Rehabilitative Unit and the visit from Kemp has helped him change his career goals. Amid of trying to fight his condition, he one day hopes to be a rheumatologist to help other kids like him. He expresses that he "…hopes to encourage and tell them 'Hey, it is possible to win even though everything is against you.'"
How You Can Help
Consider making a donation to Children's Hospital Los Angeles and help treat kids just like Carlos. Visit CHLA.org/Donate.