Dance Therapy With the Cast of Dancing With the Stars
If you heard some commotion on our fourth floor in the Anderson Pavilion, it was likely due to the squeals and giggles from patients who took part in the dance and movement therapy session.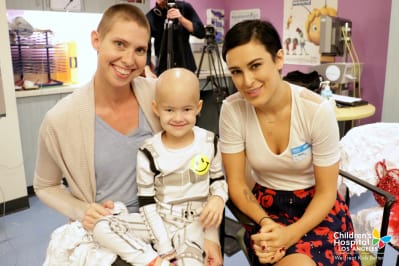 CHLA patient Ella with Rumer Willis
It was a full house when ABC's Dancing with the Stars season 20 cast members Val Chmerkovskiy, Rumer Willis, Sharna Burgess, Noah Galloway, Alison Holker and Riker Lynch visited CHLA on Thursday to join in a Drea's Dream dance and movement therapy session led by Lori Baudino, PsyD, BC-DMT. Baudino is a dance/movement therapist from CHLA, funded by the Andréa Rizzo Foundation.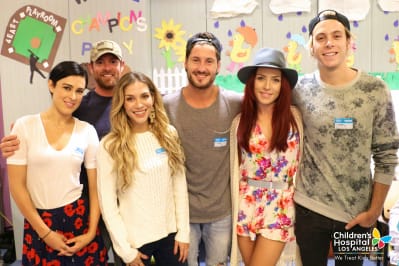 (Left to right) Rumer Willis, Noah Galloway, Alison Holker, Val Chmerkovskiy, Sharna Burgess, Riker Lynch
Making the day even more meaningful was a special guest in attendance — Susan Rizzo Vincent, president of the Andréa Rizzo Foundation and Drea's Dream. Rizzo Vincent started the foundation in her daughter Andréa's memory. Andréa Rizzo was an aspiring dancer who had cancer as a young child. She was cured and went on to become a lifelong dancer and special education teacher. She had begun graduate studies in dance therapy as she knew the impact dance had on her own healing. At age 24, Andréa was on her way home from a dance performance when she was killed her in a car accident with a drunk driver.
The Andréa Rizzo Foundation raises funds to help children with cancer and special needs. Drea's Dream funds dance and movement therapy at hospitals around the country. Since starting the foundation in 2002, thousands of kids have benefitted from dance and movement therapy. By teaming up with this great organization and ABC's DWTS, our patients are able to experience therapy in a fun and exciting way! Thanks to all those who attended and who put smiles on our patients' faces!