Jackie's Story: An Angel of Courage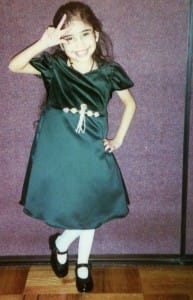 Our little angel, Jacqueline Amelia Medina, arrived on Dec. 18, 1993. She had emergency heart surgery at Children's Hospital Los Angeles12 hours after she was born. Jackie got to go home on Christmas Day. She was so tiny that the nurses brought her to us in a Christmas stocking.
Jackie took a bad turn and underwent a heart and double-lung transplant in 1996. Through all that our little angel Jackie, and our family went through, the doctors from the Heart Institute and from Pulmonology, the nurses, the lab x-ray technicians, volunteers, social workers and transplant coordinators were so wonderful.
Jackie spent a lot time in the hospital. Jackie loved Children's Hospital Los Angeles, she would refer to it as, "My hospital." Jackie went home to heaven on Jan. 21, 2002. She fought for her life each day with a smile on her little face. She inspired so many people with her courage. We miss and love her so much.