January is National Blood Donor Month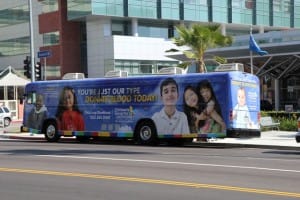 We need your help. January is more than just a cold, winter month. It's a month of new beginnings, resolutions and goals. Resolve to donate blood and give the gift of life to kids receiving chemotherapy, undergoing heart surgery, fighting Sickle Cell Disease and recovering from trauma. Take it a step further and encourage your network of friends and family to do the same!
One unit of blood can save as many as three kids at Children's Hospital Los Angeles. Bring a friend to donate and save up to six kids.
Why is Donating Blood Important?
There is no substitute for blood.
We need at least 1,000 units of blood and about 200 platelet donors per month to help our kids.
"Fresh" blood is always needed for our infant patients.
Type O blood is the universal blood donor, but we encourage all blood type donors.
How to Make an Appointment to Donate Blood
Our Blood Donor Center hours are: Monday: 8:00 a.m. – 4:30 p.m. (Platelet donations only) Tuesday to Friday: 8:00 a.m. – 4:30 p.m. Saturday: 8:00 a.m. – 1:00 p.m. Sunday: Closed The hours vary due to community blood drives. We strongly encourage you to make an appointment to donate blood or platelets. Make an Appointment. Call 323-361-2441. Directions to Blood Donor Center.
Organize a Blood Drive in Your Community
Give us a call at 323-361-2441 and we'll be happy to answer any questions you have!
Hear from a patient's mother on why blood donations are so important.