Multiple Sclerosis: A Frightening Diagnosis for Your Child

Last year Jack Osbourne, son of hard rocker Ozzy Osbourne and TV host, Sharon Osbourne, went public with his diagnosis of multiple sclerosis (MS). Jack, 26 years old, has lost 60% of the vision in his right eye. Click here to watch him discuss his diagnosis, alongside his mother, on CBS' morning show, The Talk. When I read this, I thought about my oldest cousin who died of MS several years ago and another cousin who lives with MS. This made me realize that I don't know my chances of developing MS or much about the disease. I decided to do some research online and among our hospital's neurology experts and share what was most helpful for me.
What is MS and Who Does it Affect?
MS is an autoimmune disease where a person's own immune cells attack the nervous system. This causes the nerve signals to slow down or stop. The brain and optic nerve, which is responsible for vision and the spinal cord, are all affected. There is currently no cure for MS, but there are medications and therapies available to alleviate the effects of the disease. Our Division of Neurology is an excellent resource for children with MS and other neurological disorders, and Dr. Leigh Ramos-Platt, MD, Director, Muscular Dystrophy Association Neuromuscular Clinic, was of great assistance for me in writing this part for you. MS is diagnosed in a variety of ways, such as with eye exams, neurological exams, vision evoked potentials, MRI and blood tests.
MS Facts:
Based on watching my family members' experience with the disease, I already knew that MS affects each person very differently. But I didn't know much of the below.
400,000 Americans have MS.
Historically, women and Caucasians are more likely to develop the disease.  (Although active research, including research at USC, is being performed to better characterize the disease in minority populations, children and adolescents).
Heat, sun, fever, infections and stress have been associated with MS flare-ups.
Bowel and bladder function are often affected.
There are multiple courses that multiple sclerosis can take. In the most common form, there are times one's MS goes into remission, called "relapsing" or "remitting."
If a relative has MS, there is only a small chance of you developing it.
Know the Signs and Symptoms
Dr. Ramos–Platt shared, "Symptoms of multiple sclerosis are not exclusive to this disease. However, if the symptoms seem to be recurrent, these are signs to look out for." General overview of MS symptoms: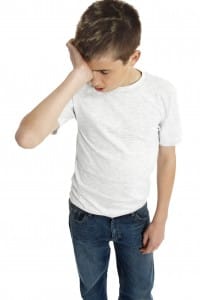 Loss of balance
Muscle spasms
Numbness or tingling
Problems moving the arms or legs
Problems walking
Tremors
Weakness, fatigue
Specific symptoms - Bowel and bladder problems
Constipation or leakage of stool
Problems urinating; frequency or urgency
Urinary leakage
Specific symptoms - Vision problems
Double vision
Eye pain
Rapid eye movements
Vision loss (usually one eye at a time)
Other possible symptoms
Facial pain
Decreased attention span, memory loss, poor judgment and problem solving
Depression, sadness
Difficulty swallowing
Hearing loss
Slurred speech
My Child is Diagnosed. What Can I Do?
There are many concerns and questions that run through the minds of parents whose child is diagnosed with MS. If your child is diagnosed with the disease you can help maintain as normal a life as possible by continuing to engage in normal daily activities, whether that's playing outside in the backyard every day before dinner, pursuing hobbies they're interested in, staying connected with family and friends or simply eating a healthy diet with regular exercise. Additionally, it's important to consider maintaining normal temperatures in the home because high temps can trigger MS attacks.
Many benefit from participating in support groups for MS. Support groups are available through the National Multiple Sclerosis Society. It is also wise to go through a reliable source like the National MS Society or your child's board certified neurologist.