Transgender Awareness Month: Merging Medical Services and Advocacy for Trans Youth
November is Transgender Awareness Month and there is so much to honor and celebrate about the transgender community. Recently, trans issues and trans figures have been the center of many mainstream conversations, as well as many trans activists, have offered a level of awareness for trans people that has never been seen before. This positive representation is helpful in raising awareness, yet there is still work to be done to address issues of poverty, homelessness, suicide, substance abuse and access to medical and mental health services that trans people face every single day.
Transgender individuals face a disproportionate level of discrimination and violence. Transgender women, and particularly transgender women of color, face staggering levels of assault and homicide, and in many cases have been harassed by the police, causing them to fear seeking law enforcement assistance. Trans people are also at a higher risk for experiencing poverty, unemployment and homelessness. Often times, trans youth are especially vulnerable to these issues and are confronted with the lack of access to comprehensive non-discriminatory social and healthcare services. Trans youth deserve to live in a world where they are accepted and able to lead healthy, safe and authentic lives.
Children's Hospital Los Angeles' Division of Adolescent and Young Adult Medicine (DAYAM) is dedicated to providing culturally competent and comprehensive services for all young people. DAYAM has been serving trans youth for almost 20 years. The Center for Transyouth Health and Development at CHLA provides comprehensive health services, including sexual health related services, to an ethnically diverse population of gender minority children and youth up to age 25 seeking services in Los Angeles County. Services include:
Ambulatory medical care
HIV/STI screening
Trans affirming mental health
Group level health education/risk reduction
Referrals for outside resources
Other limited on-site supportive services
The Center partners with a number of organizations to increase access to youth specific services, as well as provide peer and family support services to help empower youth and assist families in developing healthy ways to support their trans loved ones.
The demand for services at CHLA has increased exponentially in the past few years and with that has come an increase in the awareness for the importance of age-specific services for trans youth. However, the demand for services outweighs the resources available to meet these needs. In order to address this gap, the Center partners with Champion Fund, a nonprofit organization that raises funds for DAYAM services, to organize the annual Angels of Change event.
Miguel Martinez, MSW, the Center's manager, says, "This event involves the selection of youth who apply to be involved in a year-long leadership development project. The project includes the development of a calendar each year that highlights the strengths of the community and increases visibility of trans youth who participate in the Center's services. This year's calendar launch is December 13th and includes a VIP reception to raise needed funds, along with a program that has been developed in partnership with this year's angels."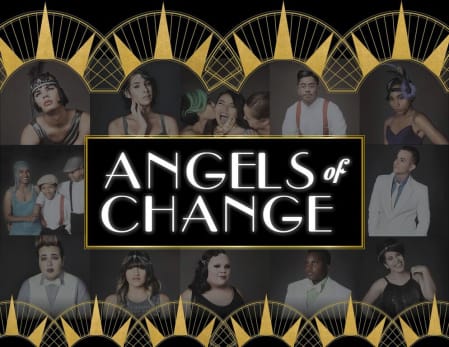 Annabel Agustin, a health educator for the DAYAM's BLUSH Program, describes the importance of Angels of Change and explains how this event "allows transgender and gender-nonconforming youth to see other young trans youth as role models. It allows youth to see themselves in a positive light, in a world where society is still trying to define transgender people on their own terms. Angels of Change has become a show where youth use their own image, not only to empower themselves, but other trans youth. I think Angels of Change also solidifies the existence of trans youth in a world where trans folks are seldom seen in the media as the norm, but rather the exception."
Angels of Change supports the Center in continuing a commitment to ensuring that trans youth are receiving adequate services that support their overall health and well-being, while also promoting advocacy and trans allyship.
To learn more about The Center for Transyouth Health and Development, Angels of Change and other trans-related statistics, visit these websites: