The Old & the New: Best Contraceptive Practices for Youth
Claudia Borzutzky, MD, adolescent medicine fellowship program director, presented a webinar titled "The Old & the New: Best Contraceptive Practices for Youth" to discuss trends around teenage and young adult pregnancy and the role of medical providers to share the best contraceptive methods for young people. The recording and slides can be found here.
Borzutzky emphasizes the importance of developmentally appropriate counseling about pregnancy, its risks, and the benefits of safe and effective contraception for healthy adolescents, young adults and those with complex medical conditions. This information would be helpful for parents as well.
Borzutzky advises medical providers to counsel in the order of efficacy, use the best resources for safety recommendations, and know the long-acting reversible contraceptives (LARCs). She says LARCs have very few contraindications which makes them the ideal methods for both healthy and chronically ill teens.
As young people take ownership of their health and access services independently, it's important for medical providers to become more knowledgeable about all contraceptive options and engage young people in the decision-making process. California minor consent and confidentiality laws state that minors may receive birth control without parental consent and conditions vary for sensitive health care services in other states.
The Division of Adolescent and Young Adult Medicine at Children's Hospital Los Angeles offers comprehensive sexual and reproductive health care, enrollment in confidential Family PACT insurance, full-scope contraceptive counseling for teens and young adults, and a range of contraception options.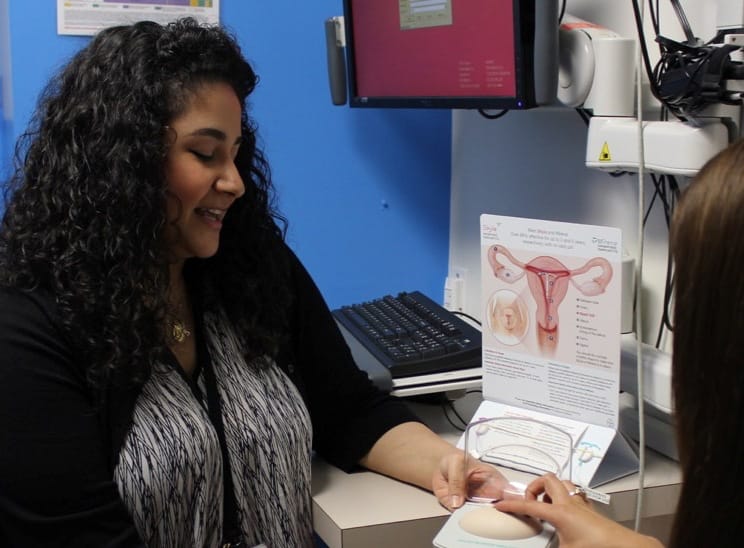 Terez Yonan, DO, MPH, adolescent medicine fellow, pictured here, is simulating a demonstration with LARCs.
By Maria Sipin